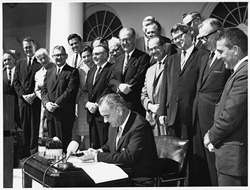 In 1964 the passage of the Wilderness Act created the National Wilderness Preservation System. President Lyndon B. Johnson signed the Act eight years after the first wilderness bill was introduced by Sentor Hubert H. Humphrey. This legislation led to a uniquely American gesture – setting aside part of itself as wilderness.
In 2002 The Clark County Conservation of Public Land and Natural Resources Act was signed into law. This Federal Act protected 18 wilderness areas in Clark County, Nevada as part of the National Wilderness Preservation System.
Nine of these designated wilderness areas are within the Lake Mead National Recreation Area. By law, this wilderness is managed differently in order to retain its primeval character and natural conditions, and to preserve wilderness as a special place for humans to examine their relationship to the natural world. For more information regarding the management of wilderness in the national parks, please see Chapter 6 of the 2006 Management Policies: The Guide to Managing the National Park Service.