Fountaingrass: Pennisetum setaceum - Lake Mead National Recreation Area
Fountaingrass is a perennial bunch grass native to Northern Africa. It has been extensively used as an ornamental landscape plant in other parts of the world. Pennisetum setaceum is a highly invasive plant that has displaced native vegetation in Hawaii, California, Arizona and Nevada.
---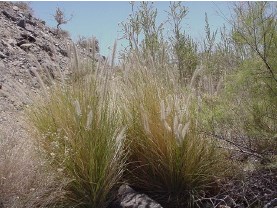 Fountaingrass has invaded approximately a 12 nautical-mile reach of the Colorado River along the shore of Lake Mohave. Fountaingrass not only out-competes native vegetation, but it is fire adapted and will carry fire into desert vegetation that are not evolved to cope with the frequency of fire that Fountaingrass will bring. This plant has a seed bank life reported to be 7 years in a field setting, so once it gets established, it may be very difficult to get rid of.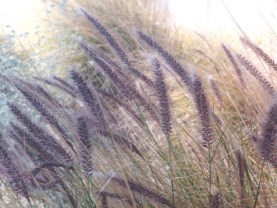 Fountaingrass is a dense bunch grass that at maturity is approximately 1 meter tall. The blades on this grass will feel rough or sharp when you run your fingers along its margins.
The best identifying characteristic will be the flowering tops. The flowering tops have a fluffy, "bottle-brush" like appearance. These "bottle-brushes" are many small and light seeds that are well adapted for wind dispersal. Pennisetum setaceum has a very similar appearance to one of our native bunch grasses, Purple three-awn, Aristida purpurea. Don't be confused; Purple three-awn won't have the "bottle-brush" flowering heads. Aristida purpurea is also softer and smoother if you run you fingers along its blade margins.


Last updated: February 28, 2015