Deserts

Desert Destinations
In North America, there are four vital desert ecosystems three of which meet within the Lake Mead National Recreation Area. Home to a vast variety of wildlife and plants, The Mohave, Great Basin, and Sonoran Deserts contain some of the rarest species in the world. With an amazing diversity of life and beauty, these regions attract travelers and explorers looking for the singular natural experience that only the desert can provide.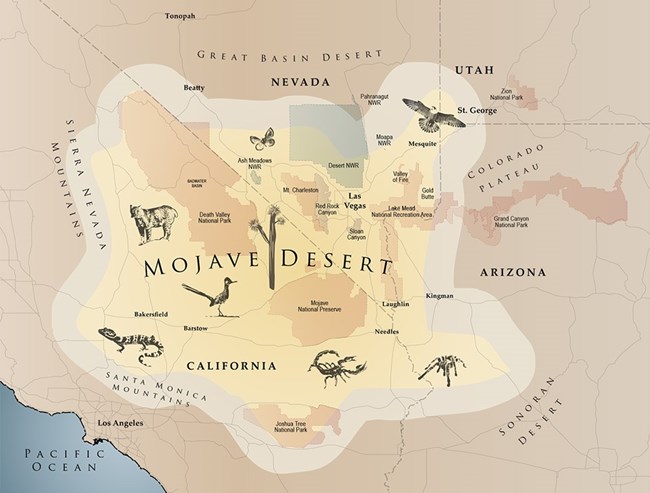 Mohave Desert
With a breadth of almost 50,000 square miles, the Mohave Desert is the smallest and driest desert in North America. Predominantly located in southern Nevada and southeastern California, the famous desert landscape is home to almost 2,000 unique plants plus the famous Joshua trees native only to the Mohave Desert. Aside from the population of characteristic vegetation, the land also harbors widely known landmarks such as Joshua Tree National Park, Mohave National Preserve, and Death Valley. Attracting visitors from all over the world, the Mohave Desert sustains major temperature changes, receives less than two inches of rain annually, and offers only two distinct seasons making it a desert destination to experience throughout the year.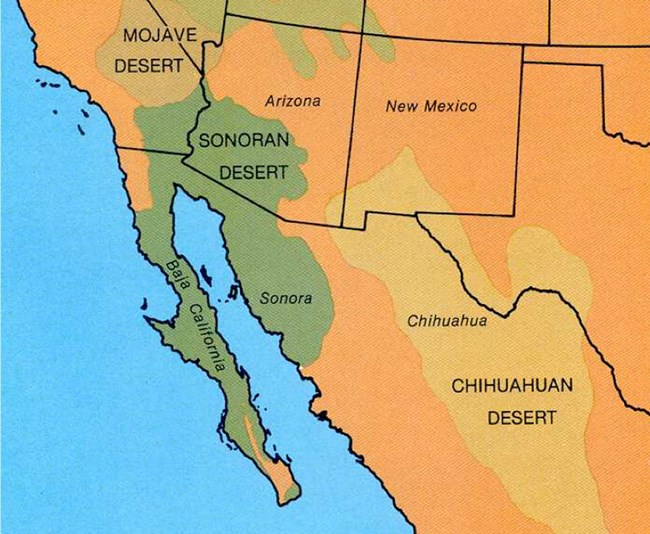 Sonoran Desert
The Sonoran Desert, stretching across 100,000 square miles, is the North American desert ecoregion featuring an intriguing variety of rare native plants and animals. Covering areas of the Southwestern United States in California and Arizona, and Northwestern Mexico in Sonora, Baja California, the desert is known for being the hottest desert in Mexico. Unlike the Mohave Desert, the Sonoran Desert supplies subtropical sunny skies in the winter and two seasons of rain. With these weather events, an extreme contrast between dry weather and moisture occurs. In addition to being home to over 300 bird species, 30 native fish, and over 2,000 plant species, the desert serves as vital habitat for wildlife including the only living group of jaguars in the U.S. The Sonoran Desert is also the only place in the world where the widely recognizable Saguaro cactus grows, providing food and homes to many of the desert's wild inhabitants and keeping the scenic vistas incredibly active with life.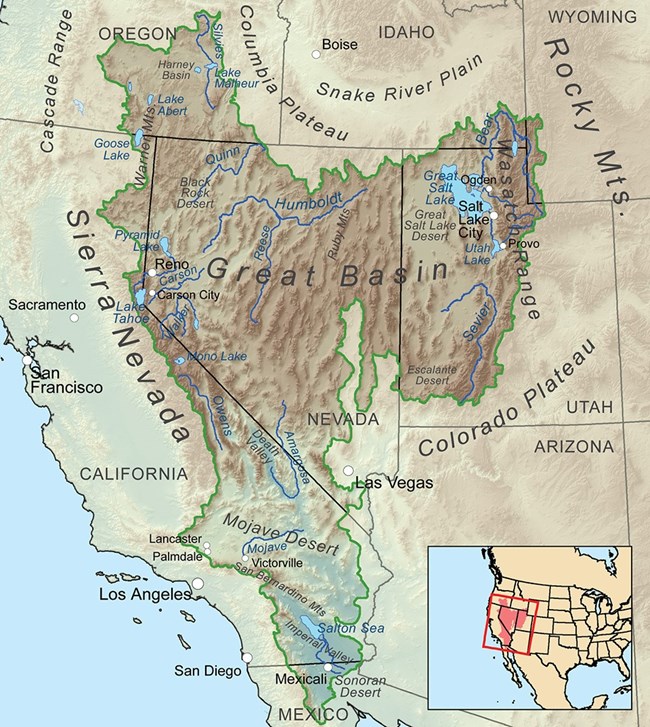 Great Basin Desert
The Great Basin Desert region encompasses vast areas of Nevada and extends into eastern California, western Utah, and Idaho. With summits reaching to around 10,000 feet and over 33 adjoining peaks, the desert's high-altitude features and bordering mountain ranges create a variable climate from scorching summers and frosty winters. With the constant change in temperature, the Great Basin Desert is home to many distinct species of animal and plant life with more than 600 different resident species. From dried up lake beds, to stunning sagebrush views and countless pinyons throughout, this Great Basin Desert preserves the natural beauty of some of earth's most diverse outdoor features.
Last updated: December 14, 2022