Management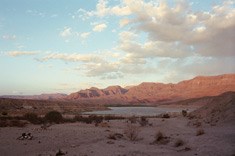 As Lake Mead was filling, it became apparent that here would be a unique resource. A giant lake in the desert would offer almost unlimited water-based recreation on a year-round basis. The U.S. Bureau of Reclamation, realizing the magnitude of the job of administering such a vast resource, turned to its sister agency in the Department of the Interior for its expertise and help. By a memorandum of agreement, the National Park Service assumed administration of "Boulder Dam Recreation Area" on October 13, 1936.
On October 8, 1964, President Lyndon Johnson signed the act that formally established the "Lake Mead National Recreation Area." This act redesignated the old Boulder Dam Recreation Area, whose boundaries had been substantially enlarged in 1947 to include the yet-to-be-filled Lake Mohave, in recognition of its equally significant recreational opportunities. The area as established in 1964 included some 3,000 square miles of lake and desert out to the western boundary of Grand Canyon National Monument. In actuality, then, the recreation area encompassed over 90 miles of the westernmost Grand Canyon. It also included the highland area north of the Grand Canyon known as the "Shivwits Plateau."
In 1974 the boundaries of the recreation area were again modified.Grand Canyon National Park was expanded to include all of Grand Canyon National Monument and the Lake Mead portion of the Grand Canyon. Thus, the entire Grand Canyon came to be under one administrative unit.

On January 11, 2000, President Bill Clinton signed Presidential Proclamation 7265 establishing Grand Canyon - Parashant National Monument. Operated under Service First Authority, the National Park Service and the Bureau of Land Management cooperatively manage the 1,048,321 acre monument. It includes 208,449 acres that were formerly managed by the recreation area, including parts of the lower Grand Wash Trough, the Shivwits Plateau, and the Uinkaret Plateau.
The muddy waters of the river are now calm. For most visitors, the essence of Lake Mead National Recreation Area is in fact the clear, clean lakes. Water is king, and its reign is largely a happy one.
Lake Mead and Lake Mohave offer the visitor identical opportunities for water recreation, yet each lake has its own qualities and its own special appeal.


Last updated: February 4, 2021