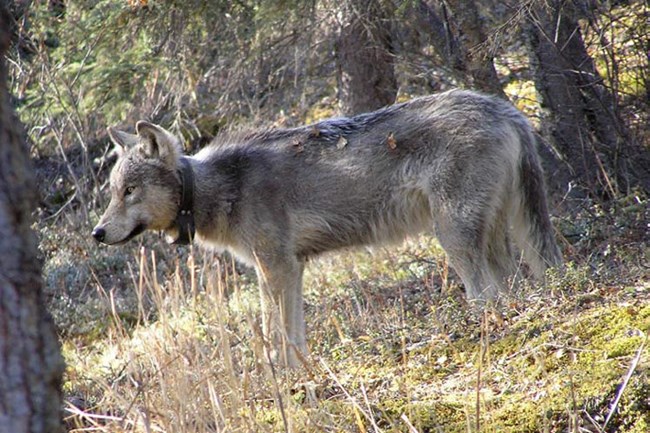 Strength in Numbers
During a five year period park biologists captured 22 wolves from six packs in Lake Clark. Biologists collected biological samples, took physical measurements, and fit the captured wolves with GPS radio collars capable of recording locations accurate to within 100 feet. They programmed the GPS radio collars to record at least one location daily. The GPS collected data regardless of time of day or weather conditions. Combined with aerial radio tracking, this data provides tremendous insight into the daily activities of wolves.
Wolves live in packs, allowing them to more safely, easily, and reliably kill prey much larger than themselves. To maintain the pack's structure, strong social bonds are needed among members. Fall wolf packs average 5.3 (range 3-7) animals per pack and typically 4 packs occupy the interior region of Lake Clark.
This is a smaller pack size than documented in many other areas of Alaska. Packs are generally composed of a pair of breeding adults, pups, and extra adults which may be previous year's pups or unrelated wolves accepted into the pack.