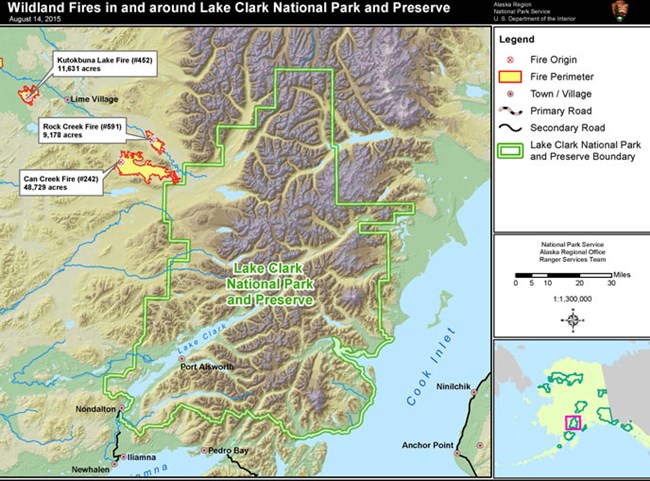 August 17, 2015 Update
As of August 17, this will be the last fire information update unless significant activity occurs.
The 1,928-acre Old Village fire was declared out August 12. The fire was located on the southwest side of Telaquana Lake near Trail Creek.
The lightning-ignited Can Creek fire started June 1 just outside the park on state jurisdiction and burned into the park. It is currently 48,729 acres. The fire has gotten significant moisture. No smoke has been seen on the last several detection flights. No structures are threatened. Fire management staff are monitoring the fire.
Alaska wildland fire managers work together to protect values, keep landscapes healthy, and ensure Alaskans, visitors, and firefighters stay safe and informed. As the wildland fire protection agency for the area, the Alaska Division of Forestry Southwest Area is working closely with the National Park Service to monitor the fire as it takes its natural course. They will take measures to protect life or property if necessary. Fire in the boreal forest of Alaska is an essential process that restores ecosystem health and helps to maintain species diversity.