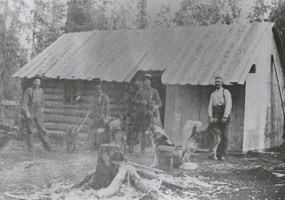 Tanalian Point was the first settlement south of Port Alsworth on Lake Clark's southeastern shore. In it's heyday during the first 50 years of the 20th century, it was a bustling hub for trappers, prospectors, and travelers.
The Dena'ina word,
Tanilen Vetnu
, means "flows into water stream" and describes the Tanalian River flowing into Lake Clark at Tanalian Point. The first known Euroamericans around Tanalian Point were C.T. Brooks, H. Von Hardenburg, and Harry Hicks who prospected Kasna Creek copper deposits between 1901 and 1906. Tanalian Point was first documented as a 2-cabin settlement, also known as Walker's Camp, in 1909 by U.S.G.S. explorers G.C. Martin and F.J. Katz.
During the summer of 1910 J.W. Walker, O.M. "Doc" Dutton, and Jonah E. "Joe" Kackley moved from Old Iliamna to Tanalian Point to build their camp. The Trefon Balluta family moved from Kijik and built cabins at Tanalian by 1911.
Tanalian Point was settled because it provided abundant subsistence resources of fish, game, and fur, rich soils for gardening, straight trees for construction, and birch for firewood. It was a handy spot for prospecting on Kontrashibuna Lake, Portage Lake, and the Bonanza Hills.