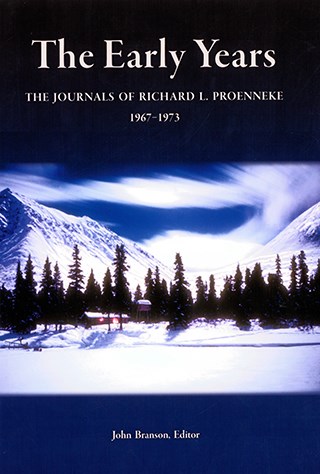 "Today would be a good day to finish the new mantle for my fireplace. Square the ends and rip it to the proper width. Mortise the notches to fit the pegs. Plane and sand the top. It looked pretty good. ...Not many fireplaces with a choice of three mantles and only 30 seconds required to change from one to another." -November 4, 1968
Read This Book
Paperback: Purchase a paperback edition from our partners at Alaska Geographic.
Summary
These journal entries cover the years in which Proenneke moves to Upper Twin Lake, builds his cabin, and encourages his friend Sam Keith to write One Man's Wilderness.
Visited by neighbors, both four-legged and two-legged, Dick Proenneke's life at Upper Twin Lake was a rich existence. Lucky for us he was a devoted writer, capturing in his journals life in Alaska's wilderness - the ebb and flow of nature and the daily lives of those making their home in the wilderness that would later become Lake Clark National Park and Preserve. Read along to experience Proenneke's way of life away from "the grind" and follow the seasons of Twins Lakes with an intrepid guide.
Publication Details
Author: Richard L. Proenneke
Editor: John Branson, historian for Lake Clark National Park & Preserve
Publisher: Alaska Geographic
1st edition: 2011
ISBN: 978-0982576533