Ongoing Ethnography Research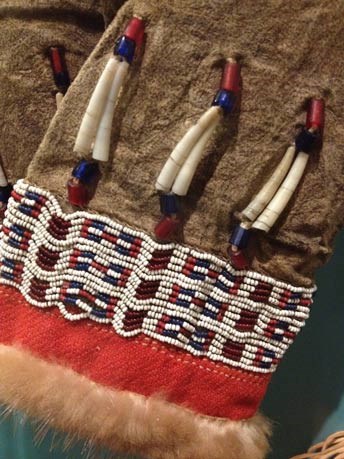 Lake Clark National Park and Preserve protects a tapestry of cultural places from 10,000 years of human occupancy. Many of these places are vital to the cultural and spiritual continuance of the local Dena'ina Athabascan culture.
The park's ethnography staff scientifically document and describe cultural customs relevant to Lake Clark, and build strong relationships between the park, local communities, and remote park residents. Ongoing projects have provided knowledge and context that helps park managers protect culturally sensitive resources and have provided opportunities for collaboration with Dena'ina communities.
Documenting Dena'ina Expressive Culture

Expressive culture includes stories, myths, dance, music, and drama. These are important artistic expressions of history to record, especially for a culture going through transition and facing changes. Lake Clark National Park and Preserve is working with a Dena'ina Steering Committee and community members to document Dena'ina expressive culture through a 4-year ethnography project.
The project will record, describe, and evaluate present conditions of Lake Clark/Cook Inlet Dena'ina expressive culture. Culturally sensitive information will be kept confidential and will be treated in accordance with the wishes of the participating Native groups. Oral histories and interviews will be reviewed and indexed for topic themes. Classes will be organized where specific traditional Dena'ina skills and expressions of culture will be taught providing hands-on learning.
Park staff will work in collaboration with University of Alaska Anchorage and Dena'ina tribes assessing, documenting and developing the final products. This process will be video recorded and photographed. The products, including a DVD and a publication of booklets, can be used by park associated tribes to support their efforts to further identify and preserve traditionally significant resources. The products and report will guide National Park Service management in the protection of cultural resources. In addition, non-sensitive information will provide content for public interpretation of the area's rich cultural history and resources.
"The stories they tell - there's one for each season of the year, winter, spring, summer, fall. Story for all different seasons and the weather, they only tell these during the season. They had stories for small kids too. Stories for all the different ages as they're growing up. They tell about what they need to know and things they can do that's right, not wrong." ~Olga Balluta
The results from this study will aid in consulting and planning with the State of Alaska, Nondalton Tribal Council, Kijik Corporation, and other interested tribes.
Partners and Contact Information
The National Park Service is partnering with the following organizations to complete these studies:
Portland State University
State of Alaska
Nondalton Tribal Council
Kijik Corporation
If you have any questions or would like more information on these projects, please contact:
Karen Evanoff, Anthropologist Lake Clark National Park and Preserve 240 West 5th Ave, Suite 236 Anchorage, AK 99501
Email Karen or call her at (907) 644-3638
Last updated: February 27, 2019