Operating Hours & Seasons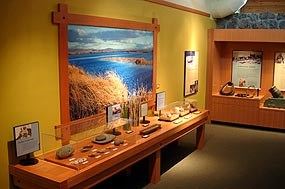 Lava Beds National Monument is always open to visitors.
Lava Beds' caves, trails, camping, and attractions are open year-round. Cave Loop Drive is closed to vehicles from 5:00 pm to 8:00 am, but you may still enter on foot or by bicycle. Occasionally in winter, snow can temporarily close park roads until they are plowed.
The visitor center is open every day except December 25th. We are closed on December 24th, 2018 as well. We also close at 2:00pm on Thanksgiving Day.
Hours are as follows:
Summer (June - August): 9:00 a.m. to 5:30 p.m.

Fall (September - November): 9:00 am to 4:30 pm

Winter (December - February): 10:00 am - 4:00 pm

Spring ( March - May): 9:00 am - 4:30 pm


Last updated: December 21, 2018