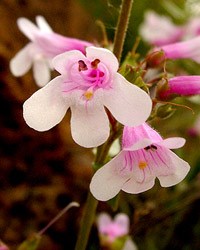 Unlike arid landscapes of the Southwest and elsewhere, the wildflowers here do not come-and-go in one dramatic spring pulse. Instead, plants stagger their blooms over the course of the warmer seasons providing a long, varying flower show that starts when the snow melts in March and lasts into September.
Listed below, in order of blooming season, are some of the most common or notable species. Dates should be taken as rough guidance, since variable seasonal weather does affect when these plants bloom, and in differing ways: A late, cold spring my cause one flower to bloom profusely through mid-summer, while another may skip blooming altogether. This is not an all inclusive list: for a more complete list of plants, read the Plants of Lava Beds brochure.
DO NOT PICK FLOWERS
Please leave flowers for other visitors to enjoy. Wildflowers, like all natural, cultural and historic things in the park, are protected and preserved for the enjoyment of all.