Safety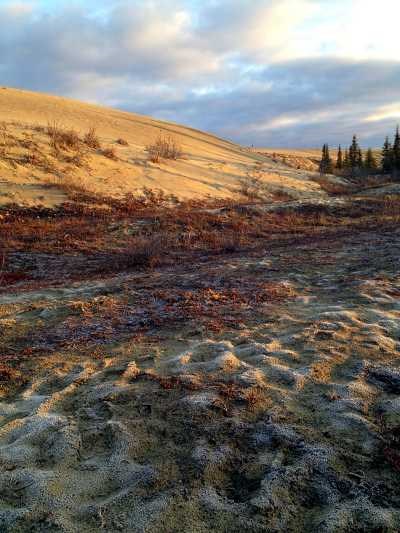 Safety is paramount when visiting Kobuk Valley National Park. The conditions are extreme, even in the summer, and can change on a dime, the park is home to potentially dangerous animals like bears and moose, and most importantly, if you do get in trouble, you're miles away from the nearest help.
Your safety is your responsibility.
Plenty of people can and do safely visit Kobuk Valley National Park each year, but it's crucial that you plan your trip according to your level of backcountry experience and that you take all the necessary precautions both before and during your trip.
If you have any questions about the conditions in Kobuk Valley, please give us a call at (907) 442-3890 and a ranger can advise you.
Stay Warm
Snow, rain, and freezing temperatures can occur any time of the year. Always travel with good quality rain gear and warm layers. Be especially careful to stay dry. Hypothermia can set in on a windy, wet day, even when it doesn't feel that cold.
Wildlife
Wild animals can be dangerous or even deadly at times. Learn about smart behavior around
black and grizzly bears
in order to keep yourself - and the animals - safe.
Moose
are also large animals that can hurt people. Give these and all animals plenty of personal space.
Store your food properly
on backcountry trips and be aware of your surroundings as you hike. Practice good
Leave No Trace
habits.
Biting Insects
Alaska is famous for mosquitoes, and for good reason, so carry bug protection when traveling in the park. Bug jackets and head nets work well, as does insect repellent. While mosquitoes taper off in August, there are still White Sox (black flies) around throughout the fall.
Finding Your Way
Since there are no roads, trails or signs in the park, travelers need to be good at orienteering. Bring topo maps, compass, and GPS unit and know how to use them. Don't forget extra batteries if you rely on GPS. Discuss your trip with rangers and your pilot. They can give general guidance on routes.
Getting Help
Many of us depend on our cell phones, but they will not work in the park. Satellite phones will work for short emergency calls. Take along several phone numbers to report emergencies. Call friends/family who have your itinerary, your pilot or park rangers (907-442-3890). Rescue could be delayed by days. The best plan is to be self-sufficient in this remote, wild landscape.
Great Gear
Don't skimp. High quality outdoor clothing and camping equipment will make your trip much safer and more fun. Breathable raingear is a must, as are warm layers made of something other than cotton. Bring an extra warm hat. A couple sources of fire starter could be a lifesaver. For a day trip, a tarp or thermal emergency blanket can serve as temporary shelter if needed. For a long trip, a sturdy 4-season tent is important.
Airplane Emergencies
Typically, visitors get to and from the park in a bush plane. These small planes can't fly in thick fog or strong winds. If you are waiting for a pick up in these conditions, you need food and camping gear in order to safely wait extra hours or days for the weather to clear. Carry emergency survival gear in your coat pocket when you fly.
Last updated: November 5, 2015