Videos & Other Multimedia Presentations
Visit our keyboard shortcuts docs for details
Duration:

9 minutes, 51 seconds
Discover the remote landscapes of Cape Krusenstern National Monument, Noatak National Preserve, and Kobuk Valley National Park. These parks are home to wide open spaces, unique plants and animals, the midnight sun, the northern lights, subsistence culture, and 9,000 years of human history.
A trip to the Great Kobuk Sand Dunes takes some effort, but the scenery and solitude makes it worth the work. There are no roads or trails, so plan to hire a pilot to get there. You can do an overflight, or land and stay a while. This video will help you start planning the logistics for a backcountry trip of a lifetime.

Duration:

3 minutes, 55 seconds
Discover the true meaning of wilderness and find out how you can explore the wilderness areas in Northwest Alaska's National Parks.

Duration:

4 minutes, 16 seconds
Nowhere has climate change had more of an impact that in the Arctic. To better understand the effect of climate change on the natural and cultural resources of the area, we much first understand the processes that drive that change. How exactly is climate change affecting our environment?

Duration:

7 minutes, 38 seconds
Northwest Alaska was home to the first Americans and the countless archeological sites in the area are helping archeologist reveal how humans first migrated to North America. However, these cultural resources are threatened by the rapidly changing climate and are in danger of being destroyed before they can be preserved and studied.

Duration:

7 minutes, 11 seconds
In 2014, rangers and biologists from the National Park Service paired with students from Kotzebue High School for a four-day learning experience at Kobuk Valley National Park. Students explored the Great Kobuk Sand Dunes and learned about the career of a field biologist.

Duration:

3 minutes, 19 seconds
Junior Rangers of Kobuk Valley
Even though it's remote, Kobuk Valley has a thriving Junior Ranger program, primarily made up of kids from the local Eskimo village of Kotzebue. Join us for a glimpse of some of our many programs.
Learn how junior rangers in Kotzebue, Alaska are able to learn about the inspiring and beautiful parks around northwest Alaska, even when they're unable to physically visit them.

Duration:

4 minutes, 14 seconds
Junior Rangers Helen and Kaley from Kotzebue, AK, wish the National Park Service a Happy 100th Birthday!

Duration:

48 seconds
Every summer, the National Park Service in Kotzebue, Alaska puts on Camp Willow, a two-day overnight camp for local 10-15 year-olds. The kids get a chance to explore nature and learn what it's like to be a park ranger and a scientist. Join us for a look at the 2015 Camp Willow!

Duration:

5 minutes, 58 seconds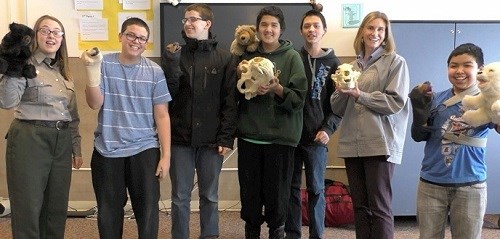 Download the video each week and show it to your classroom!
Last updated: January 6, 2023