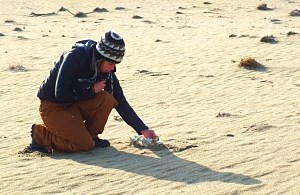 A camping adventure of a lifetime happened for seven students on the Great Kobuk Sand Dunes in September, 2014. It took nine loads on small bush airplanes to get students, staff, safety gear, food, and science equipment to the dunes. Rangers and scientists wanted kids to see what it was like to be a field biologist for the National Park Service. The hope is that these local Inupiaq high school students will choose science careers and protect the environment in their traditional homelands. The National Park Foundation made the whole trip possible through the America's Best Idea grants program. At camp, everyone dove into the following activities:
Bear safety (there were grizzly tracks all over the dunes) – pepper spray, food storage, cooking procedures
Fly fishing

Identifying aquatic insects that affect fishing success

Minnow trapping

Leave No Trace camping ethics
Hypothermia prevention
Remote detection camera set up

Bat detection sensors

Studying the formation of the sand dunes
Analyzing tracks and scat

Lichen identification
Bear hair collection for DNA analysis
Using weather recording instruments
Facilitated dialog about controversial wildlife issues
The students were total troopers.They kept their spirits up through sun, wind, rain, freezing temperatures, and tangled fishing lines. And they marveled at grizzly tracks, northern lights, migrating caribou, bear spray practice and long hikes through the wilderness. Hooray for our next generation of conservation biologists!
See the full photo gallery of the students' adventure.