ArcheoBlitz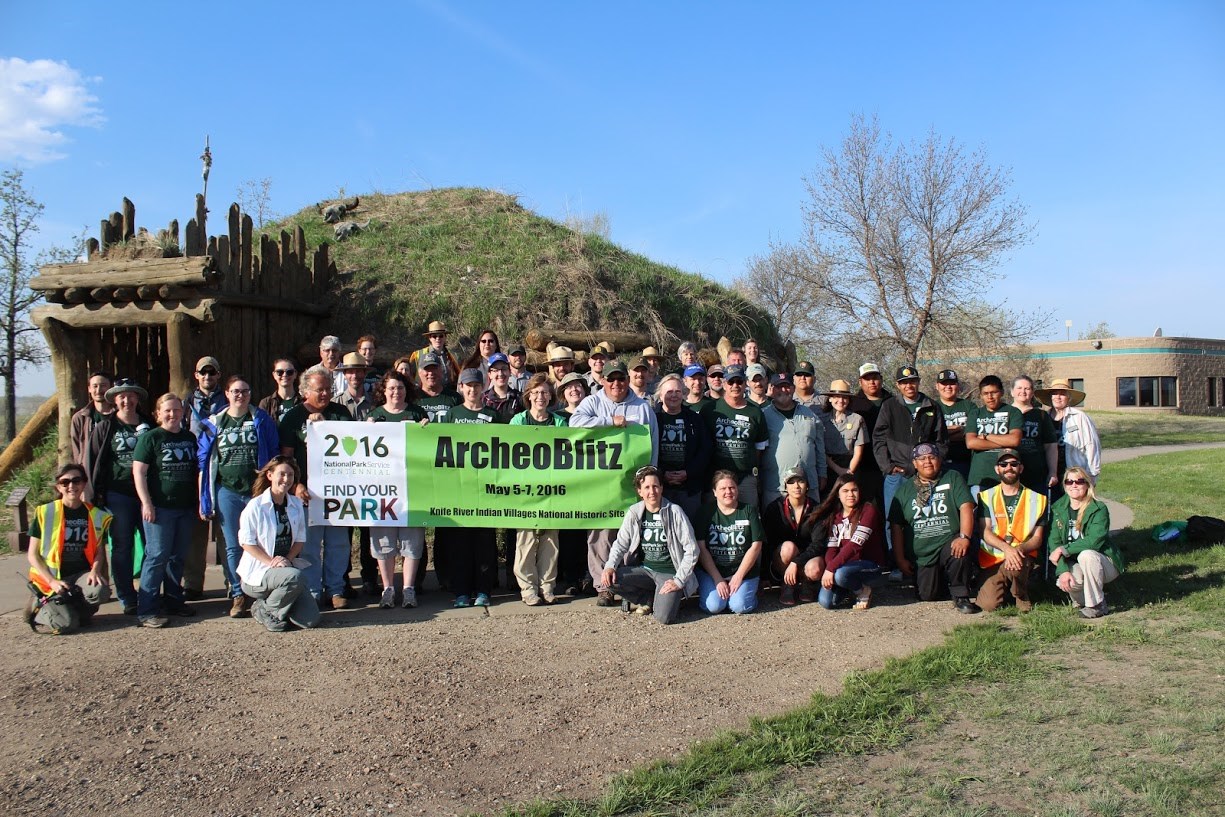 The first-ever NPS "ArcheoBlitz" took place at Knife River Indian Villages National Historic Site on May 5-7, 2016, engaging 250 middle-school students in archeological research. This event built on the popular "BioBlitz" model to involve the public in NPS field studies, but diverged significantly to incorporate archeological methods.
The first two days gave students from local area schools the rare opportunity to conduct archeological field work. These students worked closely with professionals to collect viable data for research across sub-disciplines. Given the scale of this event and the non-renewable nature of archeological resources, planners sought non-invasive research methods.
Paired with archeologists, the students:
mapped and screened sediments on the surface near burrowing mammal holes, collecting artifacts for analysis in the process.
sorted artifacts into basic material classes (bone, pottery, stone, metal, etc.) as part of the laboratory process.
used geophysical techniques, including ground-penetrating radar, electrical resistivity, and magnetic gradiometry to map the location of cultural features below-ground.
selected key artifacts for compositional and functional analyses. They then consulted with scientists in the Mobile Archaeological Microforensic Laboratory (MAML) during analyses of these artifacts on-site.
conducted small diameter coring for stratigraphic and magnetic susceptibility analyses to better understand the occupation history of an earthlodge.
Throughout all of this, students learned how to accurately document their findings with maps and field notes so that these collections can be used for future research.
The third day was open to the public, including Native performing arts groups, research presentations, and interpretive events throughout the day.
In addition to local public and tribal school students, the ArcheoBlitz engaged youth from further afield. An Ancestral Lands Corps crew of five young people traveled from Zuni Pueblo in New Mexico to provide critical support on event preparation and logistics. Going beyond the job description, they shared their enthusiasm and unique perspective on the resources at KNRI, enriching the experience for all. They have truly become part of the NPS family.
ArcheoBlitz was a grand three-day gathering of minds and expertise, all sharing a common passion and goal. A pilot-study of sorts, this collaboration was the very first of its kind to occur in the United States within the National Park Service. The ArcheoBlitz would not have been possible without the monumental collaborative effort that was put forth by many partners, namely:
The NPS - Midwest Archeological Center (MWAC)
The Nueta Hidatsa Sahnish College
The Historical Society of North Dakota
NPS Archeology Program (WASO)
NPS Youth Program (WASO)
Effigy Mounds National Monument
The North Dakota Geographic Alliance
The Ancestral Lands Corps
The Northern Plains Heritage Foundation
Mandan, Hidatsa and Arikara Nation Tribal Historic Preservation Office
Theodore Roosevelt Nature and History Association
Knife River Indian Heritage Foundation
Center/Stanton School
Hazen School
Beulah School
Grand Forks School
Twin Buttes School
New Town School
North Dakota State University
University of North Dakota-Grand Forks
Minnesota State University-Moorehead
Southern Methodist University
US Bureau of Reclamation
US Forest Service
Paleo Cultural Research Group
Paleo Research Institute
Short River Productions

UPDATE: January 2017

The Mark E. Mack Community engagement award was given to Knife River Indian Villages NHS, Midwest Archeological Center, and partners (listed above) for exhibiting outstanding best practices in community collabration, engagement, and outreach in their historical archaeology and heritage preservation work.

The Mark E. Mack Community Engagement award is vetted and presented to recipients by the Society for Historical Archaeology (SHA).

ArcheoBlitz Video

For more information see www.facebook.com/kniferiverindianvillagesNHS
Last updated: February 2, 2017