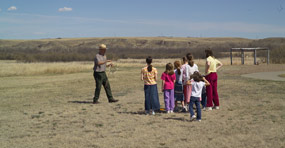 Kids Camp is the answer for your summer time activities. Come and explore Knife River Indian Villages National Historic Site through stories, crafts, and activities. Learning about conservation, tipi raising, earthlodge building, and canoeing will be a great way for youth to spend three hours a week during the month of July.
Youth ages 6-12 are welcome to come to this FREE event each Tuesday. Parents can call the park at (701) 745-3300 to register and find out more information.
Camp begins on the first Tuesday in July. For more information, click on the News section.