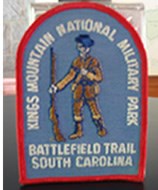 The Kings Mountain Battlefield Trail Award has been developed for organized hikers, especially youth groups such as Boy Scouts and Girl Scouts, to provide them an interesting and enjoyable outdoor experience and the opportunity to learn more about the history of our nation.
The award consists of a 3" x 4" patch. It may be worn on your hiking clothes or jackets and may be worn on the center of the right shirt pocket on either a Boy Scout or Cub Scout shirt.
Requirements:
Camp overnight at Kings Mountain State Park and obtain stamp verification.
Hike the Clarks Creek Trail from the State Park Campground to the National Park Visitor Center. (3 miles)
View the 26 minute film at the Visitor Center on the Battle of Kings Mountain.
Receive trail questionnaire from VC staff. Walk the 1.5 mile hike around the battlefield and read the historical markers. Start the hike at the Visitor Center
Complete the trail questionnaire while touring the trail. After completion, the Park Ranger on duty must stamp your questionnaire. Stamped questionnaires must accompany patch application.
Patches cost $2.50 each and will be mailed upon completion of all requirements.