Fourth Thursday In History     Saving Money and Saving History:   Historic Tax Credits Workshop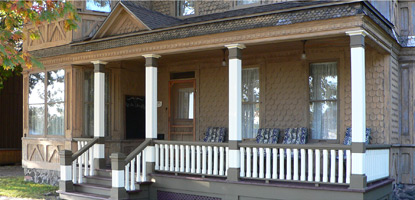 News Release Date:
September 3, 2009
Contact: Kathleen Harter, Chief of Interpretation and Education, (906) 337-3168
Do you own an old house or commercial building in a historic district, and is it in need of repair? Come learn how you can offset the costs of those repairs, regular maintenance, and rehabilitation by taking advantage of historic tax credits for owners of historic properties within national historic districts. As a fitting prelude to the evening's main program, recipients of the Village of Calumet's Preservation Awards will be honored, followed by a brief intermission. After the talk, everyone is invited to tour a historic home on Portland Street in Calumet that has benefited from the tax credit program. Come and see how your property could as well!
This special program will begin by recognizing several property owners who have helped preserve the historic character of Calumet and Laurium. Representatives from the Coppertown Mining Museum and Calumet Township will be on hand to accept their awards for their dedicated, long-standing efforts to preserve historic industrial buildings. Tony and Janice Galerneau at Rowe Furniture are receiving an award for their Calumet storefront rehabilitation, as are Barbara Piper and David Swykert for going the extra mile to ensure their residential rehabilitation project complemented their historic neighborhood in Laurium.
Next, Brian Lijewski from Michigan's State Historic Preservation Office and Nan Taylor of the Michigan Historic Preservation Network will explain how tax credits can help you offset the costs of maintaining historic properties within national historic districts. This applies to many neighborhoods in the Keweenaw, including several within Calumet, Laurium, Mason, and Hancock.
After their presentation, attendees are invited to tour a historic home on Portland Street in Calumet – located within the boundaries of Keweenaw National Historical Park – to see how tax credits have been used to offset the costs of rehabilitating a historic home. The property owners will be on hand to share their experience with the tax credit program, and Lijewski and Taylor will be available to provide additional information about how to take advantage of this program. The house is located at 811 Portland Street, and is approximately one-half mile from park headquarters.
This event will be held on Thursday September 24th, 2009 at Keweenaw National Historical Park Headquarters, located at 25970 Red Jacket Road in Calumet. The evening will begin with the awards ceremony at 6:15 p.m., and the presentation will start at 7:00 p.m. The historic home tour will follow the presentation; attendees should anticipate meeting at 811 Portland Street in Calumet at 8:00 p.m.
This evening is part of the Fourth Thursday in History speaker series sponsored by Keweenaw National Historical Park. The Fourth Thursday in History series arranges public presentations on important aspects of Copper Country and regional history, including techniques for historic preservation. Presentations are scheduled in venues throughout the Keweenaw Peninsula, particularly at historic sites associated with specific topics. They are free and open to the public. For further information, contact Keweenaw National Historical Park at (906) 337-3168
Last updated: March 16, 2018