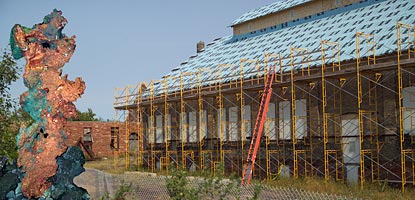 News Release Date:
October 10, 2007
Contact: Kathleen Harter, (906) 337-1104
After more than a century of collecting specimens from around the world, Michigan Tech's A.E. Seaman Mineral Museum has amassed one of the most important mineral collections in North America. Dr. Ted Bornhorst and Stanley J. Dyl will provide insight into the museum's illustrious past, its present-day activities, and its exciting future – including the state-of-the-art facility taking shape on Quincy Hill.
Michigan Tech – then known as the Michigan Mining School – had a growing collection of rocks and minerals by 1886. The collection quickly garnered international recognition with award-winning exhibits at the 1900 Paris Exposition and the 1904 St. Louis World's Fair. Since then the museum, officially created in 1902, has been named Michigan's official Mineralogical Museum and a Keweenaw Heritage Site affiliated with Keweenaw National Historical Park. Now, with more than 30,000 specimens in its care, the museum needs a larger facility to showcase its collection of minerals from the Keweenaw and around the world. The museum is currently engaged in efforts to rehabilitate the Quincy Mining Company's former machine shop on top of Quincy Hill. Come and hear Bornhorst, the museum's Director, and Dyl, Director of Advancement and Planning, shed light on the museum's history and provide an update on the relocation project.
This presentation will take place on Thursday, October 25, 2007 at 7:00 p.m. It will be held in Room 100 of the Electrical Energy Resources Center on the campus of Michigan Technological University and the museum will be open for tours following the talk.
The Fourth Thursday in History series arranges public presentations on important aspects of Copper Country and regional history, including techniques for historic preservation. Presentations are scheduled in venues throughout the Keweenaw Peninsula, particularly at historic sites associated with specific topics. They are free and open to the public. Additional support for this event is being provided by Michigan Technological University.
For further information, including specific directions to this event, contact Keweenaw National Historical Park at (906) 337-3168