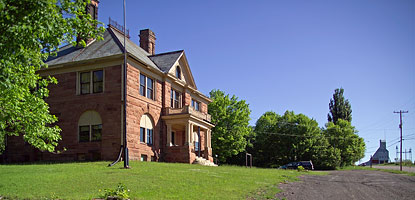 News Release Date:
May 24, 2007
Contact: Abby Sue Fisher, (906) 337-1207 ext. 250
In the spring of 1895, workers broke ground for a building that was to serve as the new administrative office for the Quincy Mining Company. More than a century later, it still stands overlooking the mine site near the crest of Quincy Hill. Now owned by the National Park Service, the office building is once again the focus of construction efforts – this time, in order to preserve it. Join Lynn Bjorkman, architectural historian with Keweenaw National Historical Park, as she describes the planning, construction, and early history of this prominent building.
There are two parts to this Fourth Thursday event. First, an open house at the Quincy Mine Office will begin at 5:30 p.m. Tour the building, learn about its history, and meet the current occupants, which include the Pine Mountain Music Festival, the George Wright Society, and the Isle Royale Natural History Association. Next, Bjorkman's talk will begin at 7:00 p.m. at the Quincy-Franklin-Hancock Fire Station, located up the hill and across the highway at 49850 U.S. Highway 41. Parking is available at both facilities, but if you choose to walk between the locations, use caution when crossing the highway. The event is free and open to the public.
The Fourth Thursday in History series arranges public presentations on important aspects of Copper Country and regional history, including techniques for historic preservation. Presentations are scheduled in venues throughout the Keweenaw Peninsula, particularly at historic sites associated with specific topics. They are free and open to the public. Additional support for this event is being provided by the tenants of the Quincy Mine Office and the Quincy-Franklin-Hancock Fire Station.
For further information, including specific directions to this event, contact Keweenaw National Historical Park at (906) 337-3168.