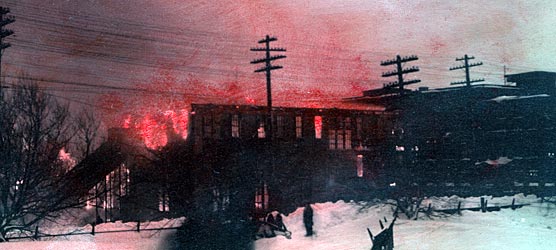 News Release Date:
October 22, 2010
Contact: Ellen Schrader, (906) 337-3168
Fires have been all-too common in Copper Country history, and have had a major impact on the communities we live and work in today. Join Avis West of the Houghton-Keweenaw County Genealogical Society as she presents an illustrated discussion of some of the dramatic blazes that occurred between 1869 and 1959, and describes how they have affected our history.
West has been investigating historic fires and other calamities for several years. She will explain why fires in the past were so bad they could destroy an entire town, describe how some of those communities rebuilt, and explain why others did not. She will also highlight the technological advancements that have made communities safer over time: the invention and installation of call boxes; fire hydrants; and pumpers have made communities much more responsive to the dangers of fire. West's work examines not only the way Copper Country communities have changed because of fire, but more importantly, highlights peoples' resiliency in the face of difficult and challenging times.
This program will be held at 7:00 pm on Thursday, October 28th, at the Calumet Township Fire Hall, located at 56825 Mine Street, in Calumet, Michigan. It is part of the Fourth Thursday in History program sponsored by Keweenaw National Historical Park. 
The Fourth Thursday in History series arranges public presentations on important aspects of Copper Country and regional history, including techniques for historic preservation. Presentations are scheduled in venues throughout the Keweenaw Peninsula, particularly at historic sites associated with specific topics. They are free and open to the public.  
For further information, including specific directions to this event, contact Keweenaw National Historical Park at (906) 337-3168.