Date:
November 15, 2010
Contact:
Tom Baker, Management Assistant
, (906) 483-3016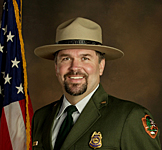 (OMAHA, NE) Michael D. Pflaum, currently Regional Partnerships Coordinator in the National Park Service (NPS) Midwest Regional Office in Omaha, has been named the Superintendent at Keweenaw National Historical Park (NHP) in Calumet, MI. Pflaum, a 30-year NPS veteran, will report for this new position on January 16, 2011. He succeeds Jim Corless, who retired from Federal Service in October.
"Mike brings excellent communication and partnership skills and a strong understanding of the value of working with the Copper Country communities to manage Keweenaw National Historical Park." said Ernest Quintana, director of the NPS's 13-state Midwest Region. "We are delighted that he has accepted this position and we welcome him to the Superintendent ranks within the Midwest Region." Quintana added.
"I'm very excited about this opportunity," Pflaum said of this new assignment. "I am looking forward to working collaboratively with park partners and the outstanding park staff to accomplish the mission together and to get to know the people of the community. I am drawn by the fascinating history of Keweenaw National Historical Park and the natural beauty of the area."
Pflaum began his career with the NPS in seasonal Park Technician and Park Ranger positions in both Yellowstone National Park (NP) and Devil's Tower National Monument (NM) in Wyoming. He achieved permanent status as a Telecommunications Operator at Yellowstone NP Headquarters in 1984. He was promoted to Supervisory Park Ranger at the park in 1985, becoming Chief Ranger at Mount Rushmore NM in 1989. Pflaum took his current position in Omaha in 2008.
While at Mount Rushmore NM, Pflaum served as Acting Superintendent of the park for 8 months and as Acting Superintendent at George Washington Carver National Monument in Diamond, MO, for a month. Earlier this year, he served as Acting Superintendent for 4 months at Navajo NM in Tonalea, AZ.
A Dodge Center, MN native, Pflaum graduated magna cum laude from Mankato State University, earning a Bachelor of Science degree in Recreation and Park Administration. Pflaum's immediate family includes his wife Barbara, a former NPS Park Ranger, and two daughters, Katie, age 20 and a student at St. Olaf College in Minnesota, and Emily, age 23, a budding music teacher in Minneapolis, MN. In addition to their work in the parks, Pflaum and his wife greatly enjoy hiking, cross country skiing, photography, and exploring the great parks, historic sites, and wildlands of the nation. They are looking forward to further pursuing these interests in northern Michigan.
Pflaum has received numerous performance and achievement awards for accomplishments including the U.S. Secretary of the Interior's Partners in Conservation Award for 2009 and the Midwest Region's Harry Yount Award for Ranger Excellence in 2007.
Keweenaw NHP was established in 1992 to commemorate the many stories of copper mining and the copper mining life on the Keweenaw Peninsula of Michigan. Jutting into Lake Superior, the Keweenaw was the only place in the world in the nineteenth and early twentieth centuries where commercially abundant quantities of pure, native elemental copper occurred. It has the oldest metal mining heritage in the western hemisphere – one which dates back 7,000 years. The park largely incorporates the Calumet National Historic Landmark District (NHL) and Quincy Mining Company NHL, both established in 1989.