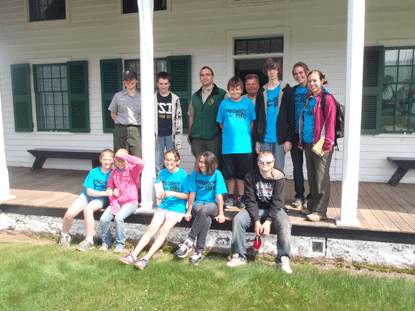 News Release Date:
July 17, 2013
Contact: Tom Baker, 906-483-3016
For Immediate Release
Contact: Tom Baker, Management Assistant Phone: (906) 483-3016  
Media contacts: 
Alanna Sobel, National Park Foundation, asobel@nationalparks.org, (202)354-6486 
Kathleen Harter, Keweenaw NHP, kathleen_harter@nps.gov, (906)483-3024  
KEWEENAW NATIONAL HISTORICAL PARK RECEIVES 2013 AMERICA'S BEST IDEA GRANT FROM THE NATIONAL PARK FOUNDATION (Calumet, MI) Keweenaw National Historical Park (NHP) is one of 34 national parks across the country selected to receive a 2013 America's Best Idea grant from the National Park Foundation, the official charity of America's national parks. Inspired by the critically acclaimed Ken Burns' documentary "The National Parks: America's Best Idea", the America's Best Idea program funds park activities designed to connect diverse, underserved and under-engaged populations throughout the United States with their national parks in innovative and meaningful ways. "One of the great things about our national parks is that every American can relate to these treasured places if given the chance to experience them," said Jonathan B. Jarvis, Director of the National Park Service. "It's our mission to engage visitors from all backgrounds in the diverse stories that we tell in our national parks. Thanks to the support of the National Park Foundation, we can propel that outreach, and engage new audiences that would otherwise never have the opportunity to experience a national park." "The America's Best Idea program gives people – particularly youth – incredible opportunities to connect to our national parks through unique and innovative ways," said Neil Mulholland, President and CEO of the National Park Foundation. "From experiences that center on history, the environment and even adventure, we are able to capture the imagination of a new generation of park-goers in ways that benefit their lives and the future of the parks." Project SISU is a local program designed to bring cultural awareness and pride to local Calumet middle school youth. Throughout the summer and fall, with the leadership of National Park Service staff and volunteers at Keweenaw NHP, the kids are visiting historical sites, volunteering at local festivals and events, and gathering information and photos. By the conclusion of Project SISU, the kids are to create a youth-focused activity map that directs local and visiting youth and families to interesting and fun places throughout the Keweenaw Peninsula. For many of the kids, this is their first time visiting some of these sites and their enthusiasm is contagious. While the park is thrilled to have received this grant and connect with area youth, it's even more exciting to see the kids develop an appreciation for the area. 
For a full listing of participating parks and program descriptions, please visit the National Park Foundation website (www.nationalparks.org/our-work/programs/americas-best-idea). 
The National Park Foundation wishes to thank L.L. Bean (www.llbean.com), the Anschutz Family Foundation (www.anschutzfamilyfoundation.org), and The Ahmanson Foundation (www.theahmansonfoundation.org) for their generous support of the America's Best Idea program. For more information on the National Park Foundation or how you can support and protect America's national parks, please visit www.nationalparks.org. For more information about the National Park Service, please visit www.nps.gov. 
ABOUT THE NATIONAL PARK SERVICE More than 20,000 National Park Service employees care for America's 401 national parks and work with communities across the nation to help preserve local history and create close-to-home recreational opportunities. Learn more at www.nps.gov. 
ABOUT THE NATIONAL PARK FOUNDATION The National Park Foundation, the official charity of America's national parks, raises private funds that directly aid, support and enrich America's more than 400 national parks and their programs. Chartered by Congress as the nonprofit partner of the National Park Service, the National Park Foundation plays a critical role in conservation and preservation efforts, establishing national parks as powerful learning environments, and giving all audiences an equal and abundant opportunity to experience, enjoy and support America's treasured places at www.nationalparks.org. JOIN US – This is Your Land. www.nationalparks.org FACEBOOK https://www.facebook.com/nationalpark TWITTER https://twitter.com/goparks