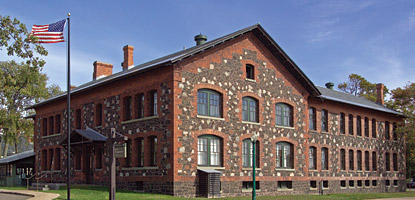 News Release Date:
June 24, 2008
Contact: Tom Baker, Management Assistant, (906) 337-1104 ext. 131
(Calumet, MI) Keweenaw National Historical Park (NHP) has moved back into its newly rehabilitated headquarters building, and invites the public to an Open House on Friday, June 27 from 2:00 to 5:00 P.M. Park headquarters, at the corner of Calumet Ave. (US Highway 41) and Red Jacket Road, is located in the historic C&H General Office Building.
The interior rehabilitation project, completed last month by Yalmer Mattila Contracting and six local sub-contractors, re-established the building's original circulation patterns and configured offices for efficient modern uses. The project also provides a reception area for park visitors and multipurpose rooms for staff and community use.
The 1887 building was designed by Boston-based architects Shaw & Hunnewell, and constructed of mosaic-like poor rock and field stone with brick trim. Additions were completed in 1900 and 1909. Many in the community are more familiar with the building as the offices of Drs. Gilbert and Baron from the late seventies until the early 1990s. The National Park Service has occupied the building since 1993, serving as the headquarters for Keweenaw National Historical Park.
Park staff is anxious for the community to reacquaint themselves with the "new" headquarters. Existing historic fabric, such as plaster crown moldings and a long-hidden fireplace were restored with the finesse of old-world craftsmanship, and new elements were configured to maintain the historic character of the structure. The two most striking elements in the public spaces are the restoration of the beautiful wooden stairway and the re-establishment of the central corridor, providing an uninterrupted sight-line from one end of the building to the other.
Park staff will be on hand to answer questions and to talk about the project with those interested. Refreshments are graciously being provided by the Isle Royale & Keweenaw Parks Association. For additional information, please call park headquarters at 337-3168.