Fourth Thursday in History: Geology of Michigan's Keweenaw Peninsula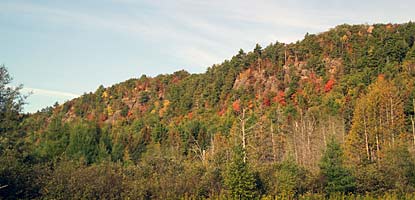 News Release Date:
June 25, 2007
Contact: Abby Sue Fisher, (906) 337-1207, ext. 250
Created by the fire of ancient volcanoes and sculpted by the ice of glaciers, the Keweenaw Peninsula has a fascinating geologic and natural history. Take an illustrated journey with geologist Bill Rose to learn how to read the landscape and gain a better understanding of the Copper Country's foundations.
Don't worry if you can't tell basalt from sandstone: Rose's talk is aimed for a general audience and will include photos of many places around the Keweenaw and Isle Royale. Rose will focus on the area's natural history, and the story of how the peninsula and Lake Superior formed. His goal for the evening is to help people enjoy the Keweenaw's natural history, and to understand more about what they see as they paddle, bike, and hike around the area.

The presentation starts at 7:00 p.m. on Thursday, June 28, 2007 and will take place in room 139 of Fisher Hall on the Michigan Tech campus. Fisher Hall is located near the intersection of U.S. Highway 41 and MacInnes Drive in Houghton, Michigan. The presentation is free and open to the public.

The Fourth Thursday in History series arranges public presentations on important aspects of Copper Country and regional history, including techniques for historic preservation. Presentations are scheduled in venues throughout the Keweenaw Peninsula, particularly at historic sites associated with specific topics. Additional support for this event is being provided by Michigan Technological University.

For further information, including specific directions to this event, contact Keweenaw National Historical Park at 906/337-3168.
Future Fourth Thursday in History Events:

History of Chassell Strawberry Farming
July 26, 2007, 7:00 p.m.
Chassell Heritage Center
42373 Hancock Street, Chassell, Michigan
Last updated: April 10, 2015