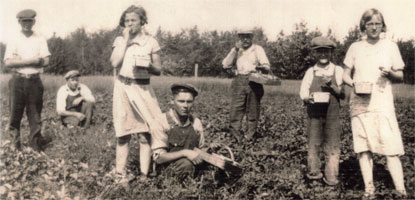 News Release Date:
July 19, 2007
Contact: Abby Sue Fisher, (906) 337-1207, ext. 250
Craving some history you can sink your teeth into? You are invited to come hear how Chassell turned from a thriving lumber producer to the Copper Country's strawberry center. Take a guided tour through the history of their strawberry farms, talk with past and present farmers, and taste-test delicious treats created with these famous berries.

Chassell developed on the site of a lumber mill that provided timbers for bracing mine shafts, as well as lumber for buildings at many area mining locations and towns. When copper production declined, the local demand for lumber decreased. Searching for a way to reinvent itself, the community turned to strawberries, and the rest is history. Today, the Chassell Heritage Center commemorates this transformation through a permanent exhibit illustrating how a group of industrious farmers successfully raised and marketed their berries. The presentation starts at 7:00 p.m. on Thursday, July 26, 2007 and will take place in the Chassell Heritage Center. The Heritage Center is located at 42373 Hancock Street, near the ski trail in Chassell.

The Fourth Thursday in History series arranges public presentations on important aspects of Copper Country and regional history, including techniques for historic preservation. Presentations are scheduled in venues throughout the Keweenaw Peninsula, particularly at historic sites associated with specific topics. They are free and open to the public. Additional support for this event is being provided by the Chassell Heritage Center.

For further information, including specific directions to this event, contact Keweenaw National Historical Park at 906/337-3168.