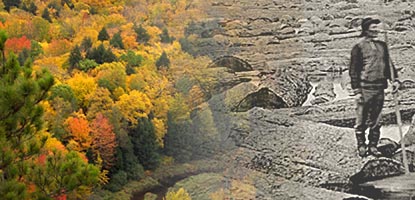 News Release Date:
September 24, 2007
Contact: Kathleen Harter, (906) 337-1104
Natural processes, changing environments, and human activities have all shaped the Upper Peninsula's forests. Join Michigan Technological University's Linda Nagel as she describes the history of these woodlands, and explains how forests reveal changing perspectives about conservation and renewable resources.
Nagel is an associate professor in the School of Forest Resources and Environmental Science. Her talk will explain the important role forests have always played in the lives of the Keweenaw's inhabitants and the industries they pursue, from the earliest Native American residents to European settlers and the copper mining industry. Logging – past and present – has also left its mark on the Keweenaw's woodlands, as have efforts to reforest the landscape.
Nagel's talk will take place on Thursday, September 27, 2007 at 7:00 p.m. It will be held in Room G002 in the Noblet Forestry Building, located on 7th Street near MacInnes Drive and U.S. Highway 41 on the MTU campus.
The Fourth Thursday in History series arranges public presentations on important aspects of Copper Country and regional history, including techniques for historic preservation. Presentations are scheduled in venues throughout the Keweenaw Peninsula, particularly at historic sites associated with specific topics. They are free and open to the public. Additional support for this event is being provided by Michigan Technological University's School of Forest Resources and Environmental Science.
For further information, including specific directions to this event, contact Keweenaw National Historical Park at (906) 337-3168.