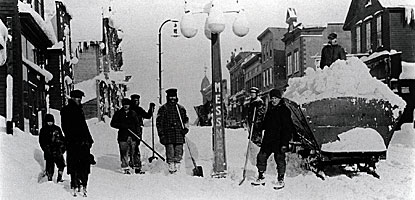 News Release Date:
February 15, 2008
Contact: Dan Johnson, (906) 337-3168
From storms rolling across Lake Superior to deep winter snowfalls, Michigan's Upper Peninsula is a land of weather extremes. The weather has forced humans to adapt since they first arrived in the region. Join Karl Bohnak, a veteran of 20 years at WLUC-TV6, and the author of an award-winning book on Upper Michigan history, as he shares stories of how rugged pioneers endured the Lake Superior region's harsh environment. Learn about some of the biggest storms, the coldest and warmest winters, and the most "backward" spring. You will also have a chance to share your weather stories.
Mr. Bohnak has forecasted the weather on WLUC-TV6, Marquette since 1988. His broadcasting career spans four decades, beginning with a search of New England snowstorms for a small radio station in Central New Hampshire. His first book, So Cold a Sky, Upper Michigan Weather Stories, is a recipient of the Michigan Notable Book award from the Library of Michigan. It combines his love of history and weather to provide an entertaining chronicle of how weather has affected the inhabitants of this unique climatic region.
This presentation will take place on February 28th, 2007, at 7:00 p.m. in the Hancock Middle School Auditorium, located at 417 Quincy Street in Hancock.
The Fourth Thursday in History series arranges public presentations on important aspects of Copper Country and regional history. Presentations are scheduled in venues throughout the Keweenaw Peninsula. They are free and open to the public.
Additional support for this event is being provided by Hancock Middle School. For further information, including specific directions to this event, contact Keweenaw National Historical Park at (906) 337-3168