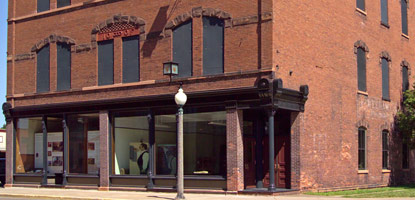 News Release Date:
October 8, 2008
Contact: Dan Johnson, (906) 337-3168
The National Park Service, Keweenaw National Historical Park and the Office of Krister Olmon, Inc. are hosting a public meeting on Tuesday, October 28, 2008, to present preliminary exhibit design alternatives for the historic Union Building in Calumet. Three different design alternatives for the exhibits will be presented, and the public will have the opportunity to provide input. The meeting will be held at park headquarters, located at 25970 Red Jacket Road, Calumet, Michigan beginning at 6:30 p.m. "This is a very exciting project," stated park Superintendent Jim Corless. "The Union Building will be the first interpretive facility for park visitors operated by the National Park Service at Keweenaw National Historical Park."
In 1999, the National Park Service purchased the historic Union Building in Calumet with the long-range goal of making it a visitor interpretive facility. Keweenaw National Historical Park completed the first phase of the building's rehabilitation by stabilizing its exterior in 2005. In 2008, the park received funding to begin planning the interior portion of the project. In July, Kirk Associates, LLC in association with SmithGroup, the architectural firm working on the project, coordinated a Value Analysis Study of several possible alternatives for the architectural component of the interior rehabilitation.
Concepts for exhibits and a visitor orientation area are also being developed. Krister Olmon, Inc. was selected as the exhibit planning and design contractor through the National Park Service indefinite quantities contract. In August, a preliminary exhibit design planning meeting was held with staff from the park, the National Park Service Interpretive Design Center located in Harpers Ferry, West Virginia, Midwest Region and the Office of Krister Olmon, Inc. to discuss park stories and themes and potential materials for further information and display. The exhibit planners and designers will show how they intend to distill the interpretive stories and major interpretive themes into messages easily understood in exhibits. In this early stage of development, attendees can expect to see a bubble diagram, a tentative floor plan, and a few illustrations. The National Park Service will consider input acquired at the public meeting to choose and further develop the exhibit design scheme.
If funding for the implementation phase of the project is received, this historic building will open its doors to the public in 2011 or 2012. More visitors to the area will then have a place to reflect on the connection between mining companies, communities and people, as well as the role of Keweenaw copper mining in our nation's history.
For more information, including directions to the public meeting, please call Keweenaw National Historical Park at (906) 337-3168. You can also find more information about the Union Building project at www.nps.gov/kewe/parkmgmt/union-building-planning.htm.