Fourth Thursday in History: History of the Calumet Schools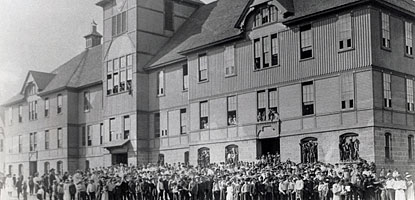 News Release Date:
January 16, 2008
Contact: Kathleen Harter, (906) 337-1104, ext. 230
The Calumet and Hecla Mining Company set the gold standard for education in the Copper Country. The company invested heavily in the schools of the mining community in order to attract a stable workforce grounded in a family-oriented society, and as the population increased, so did the number of schools; in time there were over 30 public and private schools in the area. Join Jeremiah Mason as he describes their history.
Mason, a graduate of the CLK school system, will use historical photographs to illustrate and describe the history of these schools. C&H built Washington School in 1875 under the direction of its president, Alexander Agassiz, who was also a noted scientist. It soon became known as the best in the state, and was considered to be among the best in the nation. Under Agassiz's influence, the company's commitment to public education extended beyond the Washington School, keeping pace with the growth of the community; in years to come, children would be able to attend schools in their own neighborhoods. As the population of the Calumet and Laurium area decreased, so did the number of schools. Some remain as boarded up behemoths on street corners, while others exist only in the memories of their former students.
This presentation will take place on Thursday, January 24th at 7:00 p.m. It will be held in the study hall at Calumet High School, located at 57070 Mine Street in Calumet.
The Fourth Thursday in History series arranges public presentations on important aspects of Copper Country and regional history, including techniques for historic preservation. Presentations are scheduled in venues throughout the Keweenaw Peninsula, particularly at historic sites associated with specific topics. They are free and open to the public. Additional support for this event is being provided by CLK Schools.
For further information, including specific directions to this event, contact Keweenaw National Historical Park at (906) 337-3168.  
Announcement of Upcoming Fourth Thursday in History Events
So Cold a Sky, Upper Michigan Weather Stories
with Karl Bonhak
February 28, 2008
Hancock Middle School, Hancock
Writing Seasons of Faith
with Angela Johnson
March 27, 2008
St. Ignatius Loyola Catholic Church, Houghton
The 6th Annual High School Local History Smackdown
April 26, 2008
The Calumet Theatre, Calumet
For more detailed information on upcoming events, contact Keweenaw National Historical Park at (906) 337-3168.
Last updated: March 16, 2018