Fourth Thursday in History - A New Life in a New Land: The French Canadians Come to the Keweenaw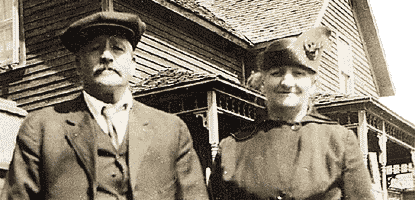 News Release Date:
August 21, 2008
Contact: Kathleen Harter, (906) 337-1104
When French Canadians left the province of Quebec and came to Upper Michigan in the 1800s, they brought their own styles of clothing, music, and food with them. Come to see, hear, and taste how these traditions are being preserved by the Friends of Fashion, Maple Sugar Folk, and the bakers of Chassell!
This special event is part of Chassell's festival honoring its French Canadian heritage – the Festival Joie de Vivre! The evening will feature a fashion show of historic French Canadian style from the Friends of Fashion's own collection of vintage clothing. The Maple Sugar Folk will accompany the program with traditional French Canadian music, and the evening will end on an even sweeter note with a buffet of traditional desserts. Come to Chassell and get ready to laissez les bon temps roulez!
Fourth Thursday in History is a series of public presentations on a variety of Copper Country and regional history topics, including techniques for historic preservation. Presentations are scheduled in venues throughout the Keweenaw Peninsula, particularly at historic sites associated with specific topics. They are free and open to the public. Additional support for this event is being provided by the Chassell Heritage Center.
For further information, including specific directions to this event, contact Keweenaw National Historical Park at (906) 337-3168
Future Fourth Thursday in History Events
Exploring the Nonesuch Mine
September 25th, 2008
Porcupine Mountains Wilderness State Park, Ontonagon
From One Office to Another
October 23rd, 2008
KNHP Headquarters, Calumet
For more detailed information on upcoming events, contact Keweenaw National Historical Park at (906) 337-3168.
Last updated: March 16, 2018