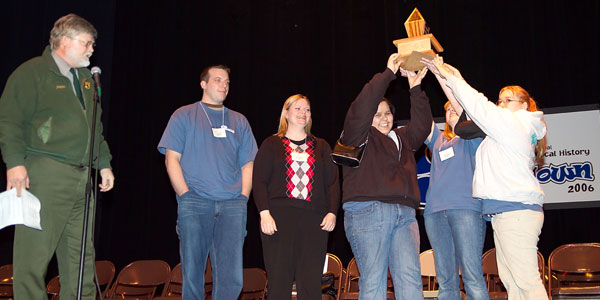 News Release Date:
February 16, 2007
Contact: Brian Hoduski, (906) 337-1207, ext 251
Teams from high schools in the four-county area are being sought to challenge for the Smackdown trophy at the 2007 Local History Smackdown in April. High-school age contestants are also welcome to form their own teams independent of school sponsorship; church, scouting, or other youth groups are welcome to participate. The registration deadline is Friday March 23rd, but don't wait to assemble a team, crack the books, and get ready to play!

Last year's champions, Baraga's Boondocks (Denise Swift, Ashley Shalifoe, and Jessica Budreau) withstood some fierce competition before raising the Smackdown trophy. While each member of the 15 teams that took part impressed spectators with their smarts, the Boondocks wowed the crowd by fielding some very challenging questions about Copper Country history. Having graduated, Swift, Shalifoe, and Budreau will be unable to defend their trophy, leaving the pressure on their Baraga schoolmates to repeat their win.

The Smackdown offers teams of area high school students a fun and exciting opportunity to showcase their knowledge of the history and geography of Baraga, Houghton, Keweenaw and Ontonagon counties. Its format is similar to a spelling bee: teams of four players are asked short-answer questions about local history topics, which increase in difficulty as the rounds go higher. The contest features a double-elimination format: two wrong answers and teams are out of play. Each team is given the right to pass on one question.

The event will take place at the Calumet Theater in Calumet, Michigan at 7:00 p.m. on Thursday, April 26. It is part of the popular "Fourth Thursday in History" series sponsored by Keweenaw National Historical Park. For further information and to register teams, contact Brian Hoduski at (906) 337-1207 ext. 251 or email him. Registration information and other details about the event will also be available here soon.