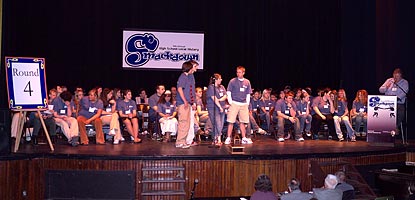 News Release Date:
April 19, 2007
Contact: Abby Sue Fisher, (906) 337-1207, ext 250
Contact: Brian Hoduski, (906) 337-1207, ext. 251
Question: What group of immigrants established a Lutheran church in Calumet, formed a Viking Glee Club, and celebrated their Independence Day in May? Do you know the answer? Undoubtedly, one of the 19 teams participating in the fifth annual Smackdown will know that it was the Norwegians. But which team will be triumphant and take home the trophy?
Prepare to watch 18 teams compete for victory at the fifth annual High School Local History Smackdown, the much-anticipated April Fourth Thursday in History program. Well-versed teams will field the Quizmaster's questions about Copper Country history and geography. The atmosphere will be charged with excitement as teams pit their wits against each other to see who will be the last one standing and take home the Smackdown trophy.
The event will take place at the historic Calumet Theatre, 340 Sixth Street in Calumet, at 7:00 p.m. on Thursday April 26, 2007. Registration for teams is between 6:00-6:30 in the ballroom. The event is free and open to the public.
The Fourth Thursday in History series arranges public presentations on important aspects of Copper Country and regional history, including techniques for historic preservation. Presentations are scheduled in venues throughout the Keweenaw Peninsula, particularly at historic sites associated with specific topics. They are free and open to the public. Additional support for this event is being provided by Range Bank, Pat's Foods & Festival Foods, River Valley State Bank, Keweenaw Memorial Medical Center and Homestead Graphics.

Click here to visit the 2007 Smackdown web pages for detailed information about the event, including rules and sample questions.
For further information, including specific directions to this event, contact Keweenaw National Historical Park at (906) 337-3168.

Announcement of Upcoming Fourth Thursday in History Events

The Making of a "Handsome and Commodious" Building: A Closer Look at the Quincy Mine Office
May 24, 2007
Quincy-Franklin-Hancock Twp Fire Hall
49850 US Highway 41, Hancock
Geology of the Keweenaw Peninsula
June 28, 2007
Room 139, Fisher Hall
Michigan Tech University campus near intersection of US-41 and MacInnes Drive, Houghton
For more detailed information on upcoming events, contact Keweenaw National Historical Park at (906) 337-3168, or check our schedule of events.