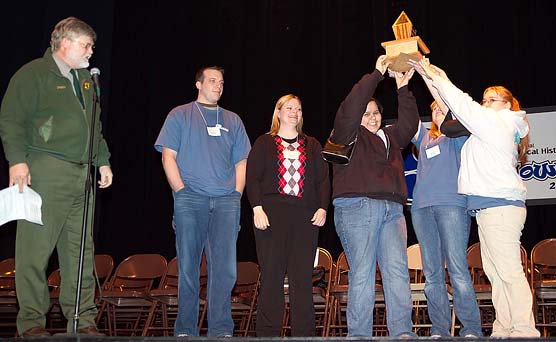 News Release Date:
May 1, 2006
Contact: Brian Hoduski, 906-337-3168
The Baraga High School Boondocks fended off some intimidating competition – including Discombobulated Ninjas, Desert Chickens and a team of Whiz Kids – to win the fourth annual High School Local History Smackdown, held April 27th at the Calumet Theatre. Team members Jessica Budreau, Ashley Shalifoe, and Denise Swift went 7 rounds under the watchful eye of coach Michele Serafin before they alone remained on stage. As the last team standing, they were awarded the Smackdown trophy and a $50 US savings bond each.
The Boondocks were one of 15 teams who challenged last year's champions, Ontonagon's Rolling Boulders, for the trophy. BRIDGE School's A-Team walked away with second place and Agassiz's Army IV, representing Calumet High School, took third. The event took place in front of nearly 200 people who came to cheer on the young historians. In a twist introduced this year, judges permitted teams to pass on one question; most – including the Boondocks – chose to exercise it in later rounds as questions got more difficult. Keweenaw National Historical Park historian Jo Urion was impressed with the level of preparation. "You can tell the students really studied for this," she said, "and I'd like to congratulate each of them for their hard work. They know a lot about local history."
The Smackdown brings high school students from Baraga, Houghton, Keweenaw, and Ontonagon counties together to showcase their knowledge of Copper Country history in a fun and easygoing, yet competitive, atmosphere. The Boondocks' win sees the Smackdown trophy travel to Baraga for the first time. Previous winners include Lakes 2 from Lake Linden in 2003, the Copper Kings from Calumet in 2004, and the aforementioned Rolling Boulders from Ontonagon in 2005. "I'm pleased that a different school has won each year," said park curator Brian Hoduski.
The Smackdown is part of the Fourth Thursday in History series sponsored by Keweenaw National Historical Park. Additional support for the event came from the Calumet Theatre, Homestead Graphics, the Isle Royale Natural History Association, Miller's Jewelry, and the Keweenaw National Historical Park Advisory Commission.