Guide to Museum and Archival Collections N-R
Ojala Family Papers
A collection of clippings, historical publications and a glass paperweight showing the Centennial church.
ACC # KEWE-00198 & ACC # KEWE-00258
Our Boys: The Spanish American War. . . .
A souvenir booklet published by the Gazette Company in Houghton in 1900.
ACC # KEWE-00116
Paul Campbell Tourist Map Collection
A small collection of digital reproductions of mid-twentieth century tourist maps of Isle Royale and the Keweenaw Peninsula.
ACC # KEWE-00300
Pollock Family Collection
A small collection of historic souvenir booklets, copper and silver souvenirs and photos of the Keweenaw.
ACC # KEWE-00227 & ACC # KEWE-00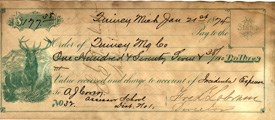 Quincy Mining Company Collection
A large artificial collection of objects and records documenting the history of the Quincy Mining Company, primarily in the 20th century. A large quantity of furniture from the Quincy Mine office building is included in the collection. Purchasing records, financial records, and blueprints, mine maps, and surface maps make up the bulk of the records. The records in this collection complement those held by the MTU Archives and Copper Country Historical Collections.
[Multiple Accessions]
Randall J. Weege Papers
Two reports, four papers, and a bibliography of publications by Randall J. Weege, C&H geologist, as well as several books from his personal library.
ACC # KEWE-00059
Raymond G. Pomroy, Jr. Copper Country Catholic Churches Collection
An assembled collection of historic and historical publications documenting the history of Catholic churches on the Keweenaw Peninsula.
ACC # KEWE-00242
Richard & June Ross Genealogical Collection
An assembled genealogical collection documenting the history of the Cornish immigrant population of the Keweenaw Peninsula, and elsewhere.
ACC # KEWE-00032 & ACC # KEWE-00191
To receive the finding aid for this collection, please email: jeremiah_mason@nps.gov
Rose Rinne Collection
A collection of WWII-era photographs taken in Copper City, two Slovenian Bibles, a 1930s-era Girl Scout uniform, and some Girl Scout troop records from the same period.
ACC # KEWE-00287
Rowe Moving and Storage Company Records
A small collection of records and photographs documenting the Rowe Moving and Storage Company's occupancy of C&H Warehouse #1.
ACC # KEWE-00213
Roy W. Drier Collection
An assembled collection of maps, reports, correspondence, and other records from various Keweenaw mining companies, 1852-1928. These records complement those held at MTU Archives and Copper Country Historical Collections.
ACC # KEWE-00009
Last updated: December 20, 2017