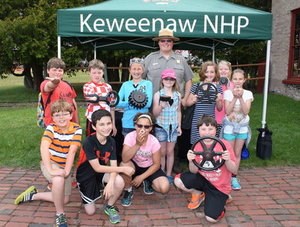 What is Copper TRACES?
Copper TRACES is a fun, educational field day for fourth graders and fourth grade equivalents at the Calumet Unit of Keweenaw National Historical Park in Calumet, MI. The field day engages students through a variety of hands-on activity stations - all of which meet Michigan Education Standards. Students from the western six counties of the Upper Peninsula are invited to participate.
What does the TRACES in Copper TRACES stand for?
TRACES identifies the topics that are the focus of the field day:
T
echnology,
R
esearch,
A
rt and Music,
C
ommunity,
E
nvironment, and
S
ervice.