Copper TRACES Partners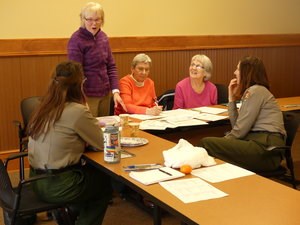 The success of Copper TRACES is dependent upon diverse community partners. Their volunteered time, enthusiasm for, and commitment to the community's youth is awe-inspiring and appreciated by the educational community. Without them, the event would not be possible.

We are especially grateful to the National Park Foundation for their continued support of the Copper TRACES program, and their commitment to bringing the Upper Peninsula's fourth graders to Keweenaw National Historical Park.
Event Volunteers
Erika Vye with Keweenaw Geoheritage and the Center for Science and Environmental Outreach

Friends of Fashion

Chris Alquist

David Crowley

Kay Seppala

George and Brenda Nousianinen

Sue and Lee Peterson

Candy Pham and Karl Nousianinen

Judy Albee

Sharon Turovaara

Alan West

Dennis and Barbara Lund
Community Partners
Last updated: June 19, 2022