Keweenaw National Historical Park Advisory Commission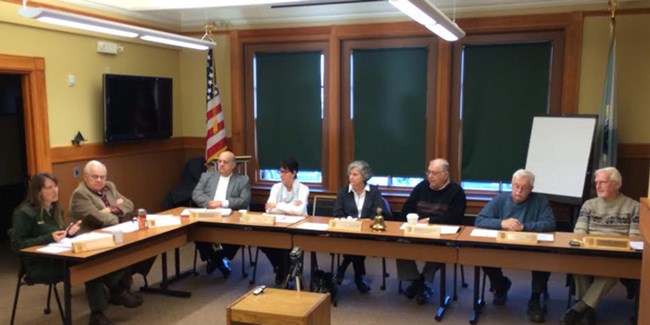 The Keweenaw National Historical Park Advisory Commission was established, along with the park, by an Act of Congress on October 27, 1992. The commission and its members serve at the request of the Secretary of the Interior.
The seven-member commission is mandated to operate in support of the varied activities of Keweenaw National Historical Park, while acting as a conduit between the park and its neighboring communities. The commission members are drawn from organizations that are relevant to the park's preservation and interpretation efforts.
The commission's quarterly meetings are open to the public.
Commission Charter
Commission Legislation
Commission Members
Meeting Minutes
Goals and Objectives
Copper Country Survey Final Report and Preservation Plan
This report contains information about historic properties documented between 2009-2013. It includes a plan that identifies critical issues for historic preservation, and goals to address those issues.
The documentation for 62 survey districts within the Copper Country are organized alphabetically by county.
For more information on the report, and to get a copy of the preservation plan, contact Sean Gohman at 906-483-3040 or email: sean_gohman@partner.nps.gov
Last updated: June 17, 2022