Birding in Kennesaw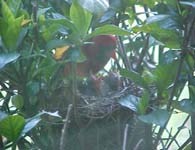 Kennesaw Mountain NBP has been herald as one of THE places to bird watch. Just ask Gif Beacon who provides bird walks throughout the year gathering in the main parking area.
Take a walk up the top of the mountain and watch the hawks circle as well as an array of species both backyard and those less common.
To learn more about Kennesaw Mountain Birding just click here.
Last updated: September 26, 2021