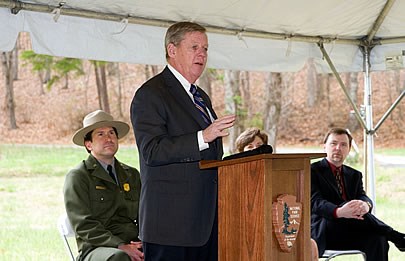 On Saturday, March 29th, the National Park Service and the Trust for Public Land, a non-profit land conservation organization, hosted a special ceremony commemorating the addition of 35 acres of land to the Kennesaw Mountain National Battlefield Park amidst Civil War re-enactors and live period music.
Speakers included U. S. Senator Johnny Isakson (R-Marietta); Representative Phil Gingrey (R-Marietta); Cobb County Commission Chair Sam Olens; Helen Tapp, Trust for Public Land Georgia State Director; and Dr. John D. Fowler, Associate Professor of History, Kennesaw State University.
The land was formerly owned by Mr. Sam Hensley, a former Georgia state legislator, and is the largest addition to the 2,888 acre site since its establishment in 1935. The additional property includes Civil War trenches built in 1864 by Union troops under General William Tecumseh Sherman's command.
"Our parents never let us forget that we stand on hallowed ground. They always told us that it was never going to be developed and that we would never see rooftops on this property," said Sam Hensley, Jr. "That became a very difficult thing to accomplish over the years. There was not a week that went by that my father did not have an unsolicited call from a developer or somebody that wanted to build a subdivision out here."
Kennesaw Mountain National Battlefield Park is the largest green space in Cobb County, located just north of Atlanta. The Atlanta metropolitan area is the second fastest growing metropolitan area in the United States, just after the Dallas-Fort Worth area according to the U.S. Census Bureau. As recently as 2005, the Civil War Preservation Trust listed Kennesaw Mountain as one of the America's most endangered Civil War battlefields. According to the Trust, 1,200 homes were built on the battlefield's borders in the past decade, with 160,000 cars passing through the site each day. As of March, 2008, the Trust's annual list of endangered battlefields has Kennesaw Mountain listed as at-risk.
Art Frederick, deputy regional director for the Southeast Region, stated that "given the tremendous growth of Cobb County in ensuing decades and the land use changes that have seen farms transformed into subdivisions, Mr. Hensley certainly could have sold his land for the development of another neighborhood."
Kennesaw Mountain National Battlefield Park was established to commemorate the 1864 Battle of Kennesaw Mountain and the Atlanta campaign of the Civil War.
Dr. Fowler pointed out that the site is the most important Civil War battlefield in the nation because the success of the Union during the 1864 Atlanta campaign led directly to President Abraham Lincoln being re-elected and continuing the war.
Senator Johnny Isakson and Representative Phil Gingrey obtained approximately $3 million in federal funding for the purchase of the land with Cobb County and the Woodruff Foundation added $500,000 and $320,000, respectively. The Trust for Public Land paid $3.6 million for the property. Senator Isakson stated that losing the 35 acres "would have truly been a tragedy."