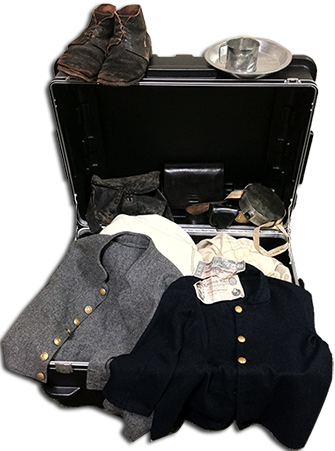 Traveling trunks are available for
local pickup only on Monday - Friday
and cannot be mailed. The Battlefield provides the following trunks for you to enjoy:
History Traveling Trunks:
Soldier and Civilian Life Trunks (there are three of these available)
The Battlefield-In-a-Box: A Trunk for the Visually Impaired
Each trunk includes reproduction clothing and implements, reading material, and a packet for teachers (that we hope you will keep!)
---
TREE (Teacher Resources for Environmental Education) Traveling Trunks
Four different TREE trunks are available, bringing the outdoors of Kennesaw Mountain to your classroom. Each trunks explores a different natural phenomena of the Battlefield, you may choose from forest, mammals, birds or the geology behind the creation of the mountain.
Each trunk contains experiments that may easily be conducted in the classroom and a table-top display that further explains the importance of the trunk's topic to the environment of Kennesaw Mountain.
---
Important Things to Know About the Trunk Program:
A $100 refundable deposit is required per trunk.

Due to high demand, trunks are issued for 7 business days only unless prior arrangements are made.
To check on the availability of the Traveling Trunks click here.
You MUST fill out a registration form for traveling trunks to reserve yours today.
Confirmation emails are sent 2 days after receipt of registration sheets. If you do not receive your confirmation after 2 days, please check your junk mail folder. If neither have occurred, please phone us at (770) 427-4686 ex. 248.