Snowmobile Safety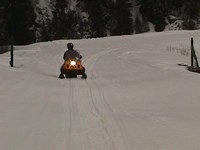 Even though Exit Glacier is a short ride from Seward and is very popular with novice riders - sudden weather changes, equipment breakdowns, or encounters with wildlife can turn a short ride into a long day. Being prepared for emergencies is especially critical when enjoying the Alaskan winter.
Know the rules and regulations for the area you'll be traveling through, including where snowmobiles are approved for use.
Be sure to dress appropriately in multiple layers of non-cotton clothing. Know the signs, symptoms, and treatment of hypothermia.
Carry enough food and water for an extended trip, as well as tools and spare parts. A small shovel, snowshoes, and a tow rope or strap can be invaluable when you or someone else is stuck or broken down.
Always let someone know where you are going and when you expect to be back.
Be especially cautious while operating in darkness or low "flat light" conditions. Braided streams create multiple channels which can be difficult to see even under the best conditions.
Keep a lookout for moose. Moose frequent snowmobile trails and often refuse to yield to people. By law, moose in the park are protected from harassment, so pick an alternate route or wait for the moose to move out of your way before proceeding.


Last updated: December 27, 2017