Photos & Multimedia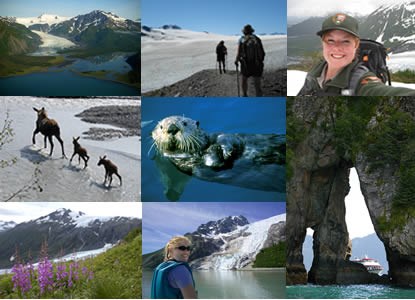 Multimedia Presentations
Do you want to learn more about your favorite national park? Check out our many videos for a fascinating in-depth look at Kenai Fjords.

Flickr
Check out Kenai Fjords' page to view and download
park photos
. See images of the amazing wildlife, glaicers, fjords and landscape that have been captured throughout the years by park staff.

YouTube
Watch videos
about the fantastic resources and scientific research that is found here at Kenai Fjords.

Pinterest
Inspired by your visit to Kenai Fjords and want to share your photos with others? Planning on visiting and want learn about the most interesting things to see and do? Visit our
Pinterest
page and begin the journey.

Facebook
"Like" Kenai Fjords and get more than just News Releases delivered to your personal News Feed in
Facebook
. We share exciting photos and happenings as they occur!
Copyright and Permissions
The National Park Service, under the Department of Interior, is a federal agency, and therefore most images and video produced by Kenai Fjords National Park are part of the public domain and may be reproduced without permission. Some exceptions apply. For more information about the policies regarding public domain, see the following:


Last updated: April 14, 2015