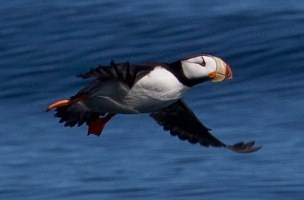 Fratercula cirrhata
(Tufted Puffin)
Fratercula corniculata
(Horned Puffin)
Basic Info
Puffins belong to the Alcid family, a group of diving birds that swim underwater using their wings for propulsion and their feet for steering. Two species of puffins nest in Kenai Fjords National Park, the horned and the tufted.
The puffins we see from the tour boats are ready for the breeding season. The horned puffin has pure white feathers around the face, large flashy beak plates and the characteristic fleshy black horn above the eye. The tufted puffin also has white facial feathers and colorful beak plates, but the addition of two tufts of yellow feathers atop its head distinguishes this species. Both puffins stand 15 inches tall, the tufted puffin is heavier at 1.7 pounds than the horned puffin at 1.4 pounds. The weight difference seems slim, but for a bird that must beat its wings 400 times a minute to stay aloft, it is very big.
Tufted puffins arrive in the rookery islands about mid-May. Horned puffins usually follow one week later. Both types of puffins begin their breeding season by gathering in large groups on the water. Puffins mate for life, and it is thought that these gatherings may reunite mated pairs.