Nature & Science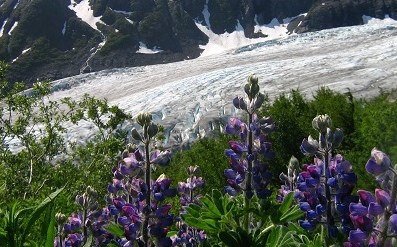 Kenai Fjords National Park sits at the edge of the North Pacific Ocean, where storm patterns develop and feed a land of ice. The Harding Icefield crowns the park and is the source of at least 38 glaciers that flow over the land, sculpting as they go. These gigantic rivers of ice have shaped the terrain and are now receding to reveal their work. As ice melts, rock is uncovered and the process of succession begins to take place. Scientists in the park investigate such diverse topics as newly colonized nunataks, black bear genetics, and the reproductive success of shorebirds.
"Field Notes" Video Series
Over the years, Kenai Fjords National Park has a created a series of videos,collectively called, "Field Notes." They provide an in-depth look to what has been studied over the years at Kenai Fjords, and what it can tell us about our changing world.
Research at Kenai Fjords
How to apply for research permits.

Research Permit and Reporting System: This system lists out the various research projects that have been and are being done at Kenai Fjords, and the entire National Park Service.


Last updated: June 16, 2019