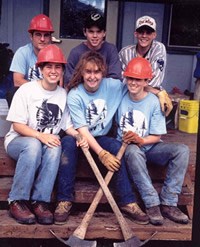 Volunteers help out at Kenai Fjords National Park with various aspects of park management including trail work, exotic plant removal, coastal research projects and providing information to park visitors.
Many of our volunteers work through the Student Conservation Association (SCA), which can be a good place to look for positions throughout public lands.
Each summer, with support from the Ocean Alaska Science and Learning Center (OASLC), we partner with the Alaska SeaLife Center (ASLC) on a joint ASLC/NPS interpretive fellowship. These fellowships are for college students or graduates who are interested in gaining interpretative experience in the park as well as in a world-class marine facility. With the experience gained in this fellowship, fellows have been well prepared for jobs and careers in the NPS, the ASLC, as well as other public lands and aquariums.
Additional volunteer positions at Kenai Fjords are somewhat limited due to lack of housing. Most positions are filled by January for the following summer season. For more information on the Volunteer Program at Kenai Fjords, email or write:
Volunteer Coordinator
Kenai Fjords National Park
P.O. Box 1727
Seward, Alaska 99664