I had been aboard the M/V 
Serac
, our 53' park boat, before, for a three day trip in rainy, foggy, choppy conditions. It was still a wonderful experience but going into a seven day trip, I had mentally prepared myself for less than pleasant conditions. I was astounded at the perfect weather for nearly the entire trip! For those of you that are subject to motion sickness, you will understand my fears in searching for peregrine falcons, through binoculars, while standing on a boat in a rolling ocean. 
We had two primary missions during our seven day voyage, requiring us to travel the vast majority of Kenai Fjords National Park's majestic coastline. We were searching for peregrine falcons, and collecting prey remains from bald eagle nesting locations. Our daily routine consisted of splitting up into two teams to accomplish these missions. One team (usually on the Serac) would set anchor at close distance from a known peregrine falcon nesting site. The goal here was to find two peregrine falcons and confirm the location of their nest. A seemingly easy task when read on the screen of your favorite electronic device. 
Protocol requires searching for four hours, for any peregrine shaped creature that chances to pass the straining gaze of the observer. Imagine a buzzing metropolis of bird life including gulls, puffins, cormorants, eagles, ravens, and more. The sitting birds offer some relief while each flying bird is on its own trajectory in every direction possible. Some of these birds I had only recently become acquainted with. The excitement of a new species made it difficult to will myself to look away in the split second it takes to identify that bird as non-peregrine. While this is all going on you have to scan every ledge on a cliff face, towering several hundred feet overhead, for the cryptic peregrine falcon. Needless to say, having a partner to work with was much appreciated when it was time to take a break. The elation of catching a glimpse of the boomerang shaped peregrine falcon, zooming through the air like a jet fighter, is short lived as you now have to double your eye straining efforts to maintain a visual on the bird and hope that it lands on or near its nest. Unfortunately, there were sites with no peregrines, and sites where peregrines were observed but no nest location found. But for me, finding any peregrine was a rewarding experience by itself!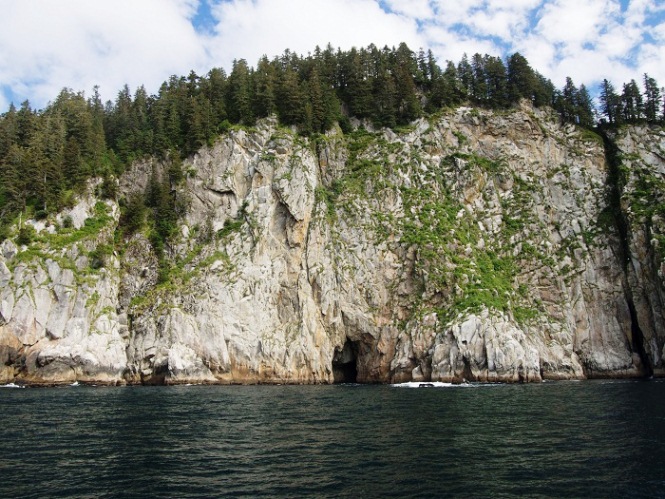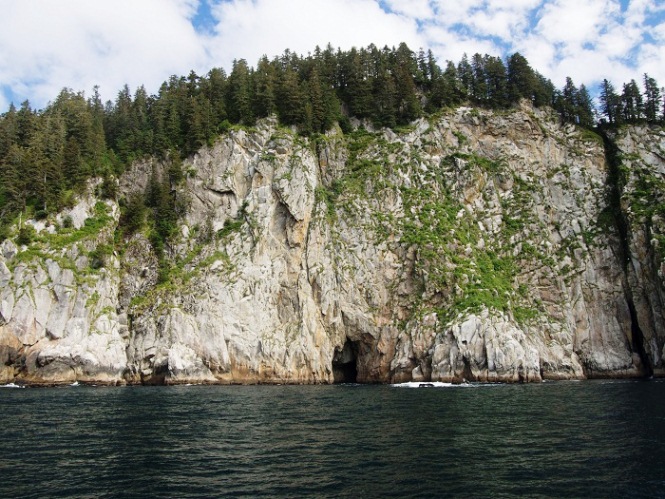 Typical peregrine falcon nesting site on a sea cliff.
Photo: NPS / Jordan Green
We had towed a skiff behind the Serac, affectionately named the Auklet. On this 4 X 4 of the sea, the other team would travel to known bald eagle nesting sites where a bald eagle was observed incubating eggs on a previous helicopter survey. The goal here was to scramble up steep cliff sides and search under the nest tree for any prey remains; this could include fish bones, bird feathers, and parts of birds. 
At the beginning of the trip I would have considered myself a novice at beach landings with a motorized boat. The lake-like calm water conditions made dropping people off on a beach very easy. I've only had to "touch and go" a couple of times in surging wave action and look forward to gaining more experience mastering that skill! After scrambling up through rock (and at times dense vegetation) I would begin the search for any signs of "white wash" to clue me in on areas that I could find prey items. We would take note of any eagles in the area, what they were doing, and if there were any signs of chicks in the nest! On the fourth day into the trip I realized I was searching for leavings of our national symbol on the anniversary of our declaration of independence. At that moment I felt intimately American!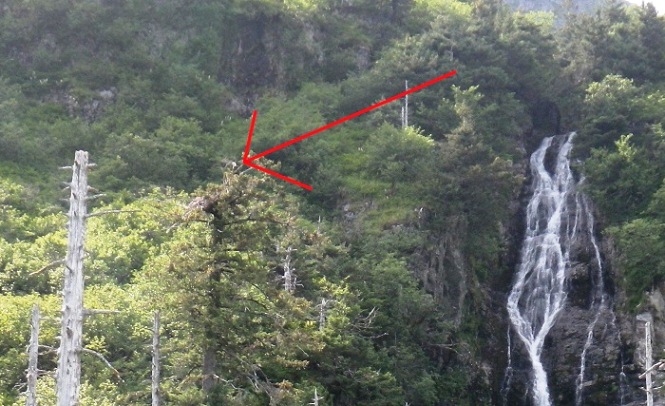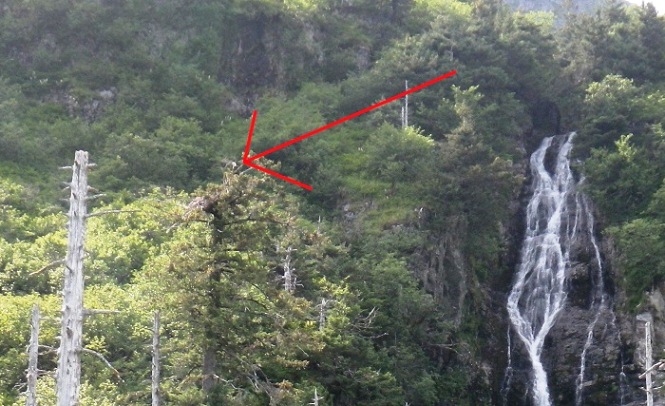 Bald eagle perched above a nest.
Photo: NPS / Jordan Green
The final night of our trip we anchored in Agnes Cove to protect us from an approaching storm. Unlike the previous nights aboard the Serac, this night proved to be a bit more bumpy! Around 2 am I awoke to a slow sloshing motion, a howling wind, and the loud "thump" of the Auklet bumping into the swim deck where it was tethered for the night. To my amazement, I was still able to drift off to sleep again despite these happenings! The ride back to Seward started with ship slamming waves approaching 7 feet in height! I was partly worried about getting sea sick and partly excited for the wild ride that lay ahead. Fortunately, as we headed into Resurrection Bay the seas calmed down considerably. We were on our way home with important data for both peregrine falcon population dynamics and bald eagle predator-prey dynamics!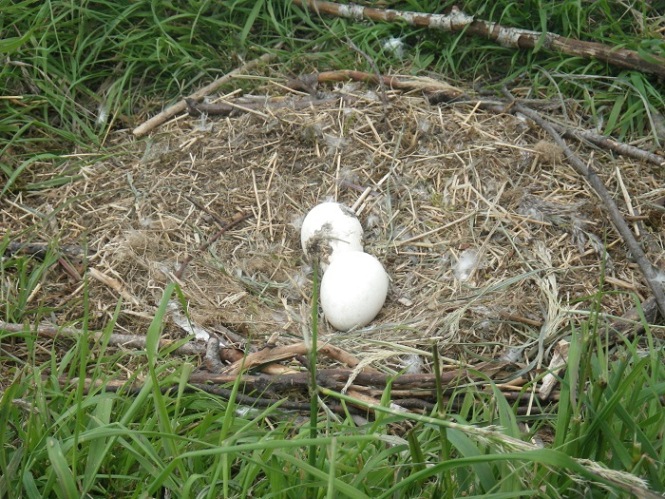 Although bald eagles typically nest in trees, this nest is on the ground at the top of a cliff!
Photo: NPS / Jordan Green