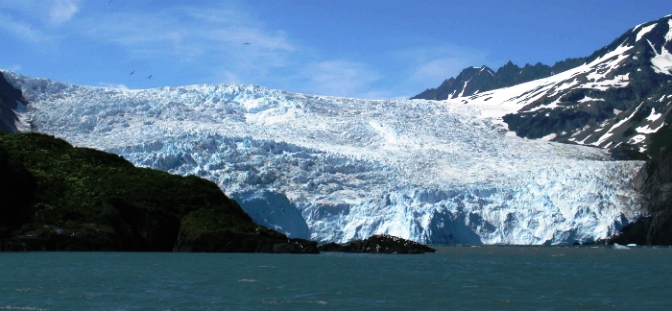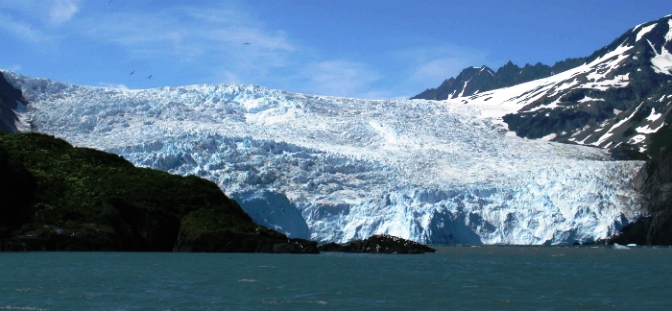 Aialik Glacier spilling into Aialik Bay
Photo: NPS / Travis Fulton
Summer seems to have come early to Kenai Fjords National Park this year! Hot, sunny days have caused rapid melting of the already lower than average snowpack, and the park is turning green fast.  All of us at the park are hoping the good weather holds and allows for another productive season in the field. Many of the projects you may have read about in last year's blog are ongoing this season, and will continue to be updated with personal accounts and pictures right here! 
Bird is the word when it comes to ecology in the park this season, from shorebirds to raptors.  In an ongoing study in Aialik Bay, researchers are carefully monitoring black oystercatcher nests, trying to better understand how diet affects chick growth and, on the broader scale, the overall productivity of this species of shorebird.  Others in the ecology department have the envious job of flying the park's rugged coastline and identifying bald eagle nests from helicopter, in order to establish an accurate estimate of eagle populations in the park.  Look for some amazing pictures from these folks. 
The Exotic Plant Management Team is preparing for another season of weed control.  The fantastic weather has allowed the dandelions and other invasive plants to get a jump on the growing season, but past years efforts at weed control have proved extremely effective and we are hoping for more success this summer. 
On the Physical Science side of things, we are excited about a new time lapse camera project at Exit Glacier!  Harsh weather conditions and camera electronics often do not get along, but this year we hope to install a dependable system capable of capturing daily pictures of Exit Glacier, in order to obtain a photographic record of the glacier's behavior.  Ongoing mass balance and terminus mapping projects will also help us understand this complex and rapidly changing glacier. 
The primary goals for archeology in the park this summer will be to prepare Determinations of Eligibility for the National Register of Historic Places for archeological sites located in Aialik Bay, and to identify any gaps in existing cultural resource data throughout the park.  Finally, if time permits, new cultural resource surveys will be conducted to try and locate previously unknown archeological sites. 
We are looking forward to another great field season, and hope to see you around!