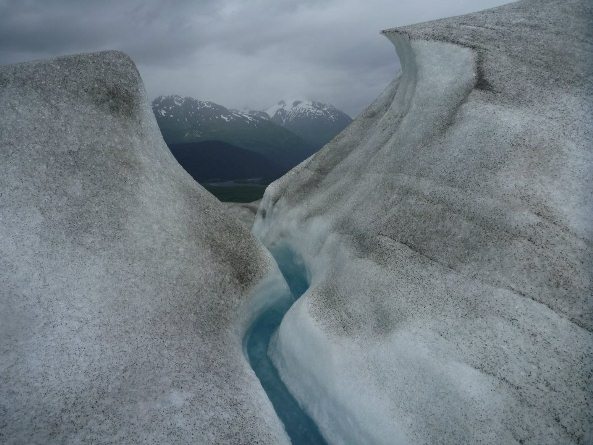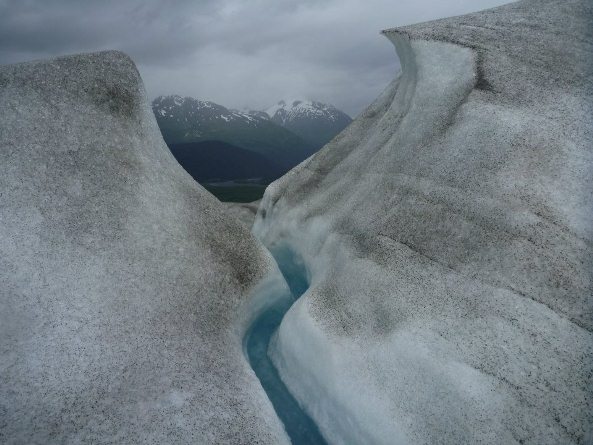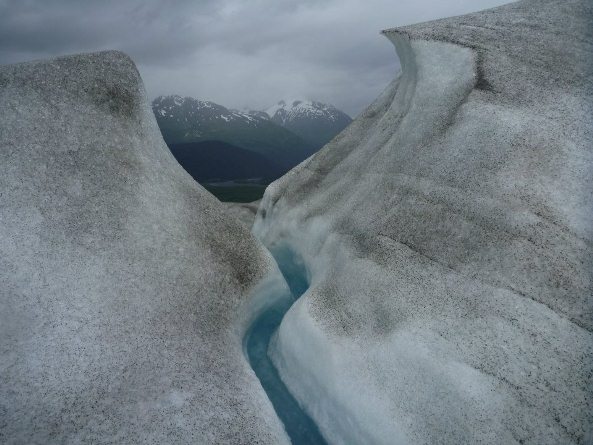 NPS Photo / Amidia Frederick
"Everything has its wonders, even darkness and silence and I learn whatever state I may be in, therein to be content" – Helen Keller 
The crunch of ice and snow betrayed one's sense of security and stability upon this land of ice. Although crampons and their metal spikes acted as an anchor for our shuffling strides, if we didn't space apart our feet at a specific angle or apply a great enough pressure when digging in our spikes, we risked tumbling down the icy side of  Exit Glacier to the rocky floor below or worse, a fathomless crevasse. But with most adventures, the cost of fear is paid with the gift of exhilaration, rather than doom. And for an insane moment as I teetered at the edge of a beginning fissure of what months later could become a giant crevasse, I knew that if I should meet my end, falling into the crack's icy depths, I might find in my last moments a small measure of contentment, peace. But allow me to explain. 
Not seven weeks from when I first arrived in Alaska, I found myself traversing across the formidable Exit Glacier with my fellow co-workers of Kenai Fjords National Park. We were lucky. All of us had volunteered as extras in the filming of a video about the wonders of Kenai Fjords National Park. Only five of us were able to go. For me, it was an opportunity of a lifetime to walk across an ancient remnant of an ice age long past.  Every week I have the privilege of introducing Exit Glacier and its many spectacular secrets to visitors from all over the world and now I was able to personally pay homage to it. My family could not believe what their daughter was able to experience. "Wow" I kept hearing over the phone as I talked to my mom, "wow…Amidia….just….WOOOOOW". 
Indeed the simple phrase "wow" is the most prominent response I get from the many groups of visitors I encounter at Exit Glacier and believe me, there is a LOT to wow about. Exit Glacier flows 2.2 miles from the edge of the Harding Icefield, a vast lake of ice constantly replenished with snow and ice since the late Wisconsin glaciation 20,000 years ago. 
Although we only trekked across a small percentage of those 2.2 miles, our vantage point yielded one of the most spectacular landscapes I had ever seen. Rolling hills of glacial ice stretched in all directions in a structural flow reminiscent of a roaring river frozen still. The supra glacial melt water ponds that scattered across the surface of Exit Glacier created a surreal feeling of an alien world. Their turquoise depths dotted with chocolate colored sediment deposits remind me of a marbled canvass of iridescent pastels.  Water gushed from every opening that it could find, coursing down huge bowl shaped impressions, into fissures of inky black darkness.  Crevasses stretched around us extending to the edge and dropping off into wide cavernous openings.   
Peering over the edge, I felt a moment of vertigo.  How deep is the crevasse? How cold would it be? How silent? It's not that I would ever wish to discover the answers to those questions, yet asking them revealed a far greater value of my life in the presence of such danger and of such awesomeness. The experience itself, of standing on a river of ice became so much more poignant, so much more relevant to the personal realization that so far my life has been filled with extraordinary experiences.  Why ever should we expect anything less but extraordinary? We're here, now at this very moment a part of this vast and wildly intricate planet and it was all meant to be.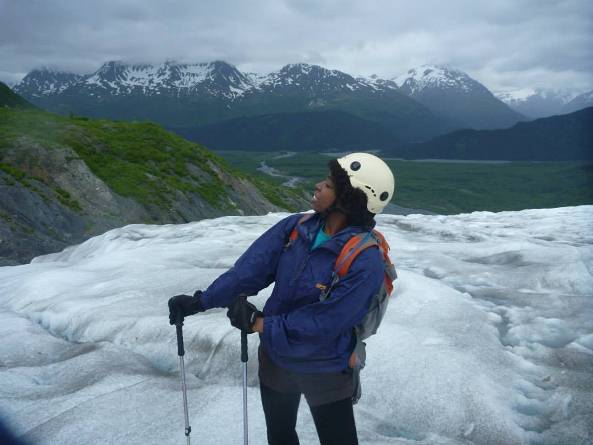 NPS Photo / Cory Smith