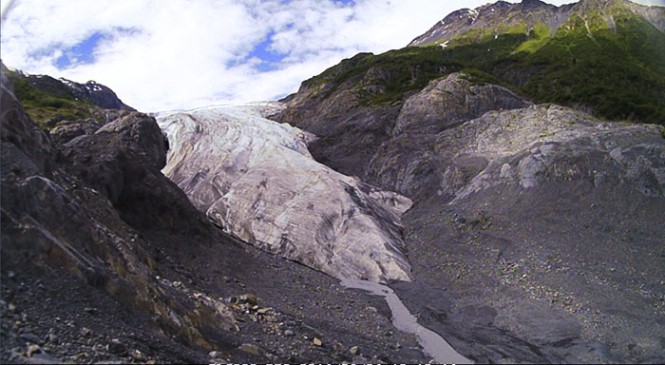 The view of Exit Glacier as captured by the terminus time-lapse camera.
Photo: NPS

In a park dominated by rugged coastlines and tidewater glaciers, Exit Glacier is exceptional for it's accessibility. Visitors can get up close and personal with this valley glacier in less than a mile's walk from the Kenai Fjords Nature Center. 

But things are changing fast.The terminus of the glacier has receded 270 meters in the last 10 years. The "Edge of Glacier" trail which used to wind right up to a towering body of ice now overlooks a shrunken terminus nearly 40 meters away. And while using GPS to map the recession of Exit Glacier can provide valuable quantitative data, it can sometimes be hard to visualize this glacier melting away. After all, Exit Glacier still seems impressively massive when standing next to it, and many may find it difficult to imagine this ice disappearing so rapidly. 
Time lapse cameras are an exciting way to actually see the glacier changing before your eyes. These cameras take one photo per day, and these photos are then processed into a video that encapsulates the entire summer season. Essentially, time lapse photography allows you to fast-forward through processes too slow to notice in a single day. This season, I installed two time lapse cameras;one at the terminus of the glacier and another near Marmot Meadows, approximately 1 kilometer up- glacier from the terminus. The videos from this summer will still not be finalized for another few weeks, but click
here
to see video obtained from the same Marmot Meadows camera location back in 2010.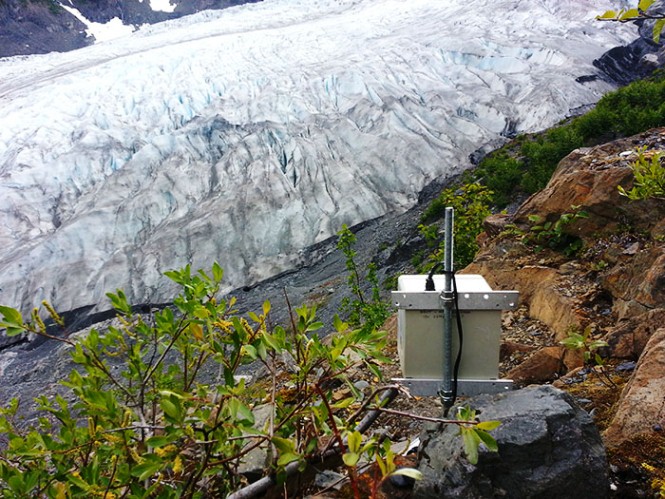 Marmot Meadows time lapse camera.
Photo: NPS / Sean LaHusen
Each time I watch this video I pick up on something new. The entire body of ice is noticeably thinning, and shrinking in from the sides. While this is certainly not abnormal behavior for the ablation zone of a glacier during the summer months, it is still very dramatic to watch. 
Perhaps most exciting of all is that if you look closely, you can actually see the glacier flowing. Exit Glacier travels down-valley at an average rate of ~30 centimeters per day: too slow to perceive even if you spend all day gazing at the glacier. Time lapse photography allows you to actually watch solid ice flowing, which to me is pretty remarkable. So, the next time you hear a Park Ranger describe glaciers as "rivers of ice", you'll know they really mean it!